Many of you know my old man. He's gone. No words. See you at Dale
Sorry to hear of your loss.
Sorry to hear. RIP Cyril.
Sorry to learn about your loss Belge. Best wishes to you and your family. UTS
Sorry to hear of your loss. RIP
So sorry to hear Neil. Thoughts are with you mate.
Really sorry for your loss. Best wishes
Sorry to hear that, best wishes, all our thoughts are with you at this sad time.
Sorry to hear that Neil
Thoughts with you and your family
Sorry to hear your sad news. My thoughts are with you and your family.
Thoughts with you, sad news
Condolences and best wishes Neil.
See you tomorrow.
Thanks all. He went peacefully in the end. His dementia had really got worse recently then he fell and shattered his hip couple of weeks ago so was obviously in a lot of pain. In a way it was a blessing no more pain and suffering now Cyril. Best Dad ever. Some of the stories I have heard about him recently about his days at FP have meant the world to me. Thanks to Olly, Kev Small and others who told me some hilarious tales from back in the day. Knowing how respected he was, even by people he used to nick has been mind blowing. Legend that is David Evans who has biggest collection of WFC stuff on the planet interviewed him 3 years ago https://www.walsallfctrust.com/post/years-gone-by-cyril-adams
David is working on an obituary with comments from a few who remember him. Will post it when it's done. Already had a lovely message from Paul Marston our best reporter ever (although my respect for Joe Edwards is increasing by the week). UTS and will raise a glass at Rochdale.
Choice for a foto for the funeral card was easy. I said straight away and Albion supporting brother and football hating sister agreed straight away. Iconic foto. That's who he was. Told me the story many times. He rushed up to the Railway End when wall collapsed. He was faced with hundreds of Scousers (Look at the mullets!) but was convinced he had a dozen PCs behind him, he looked round and realised he was on his own and said … He said TBF the scousers were good and didn't try to get on pitch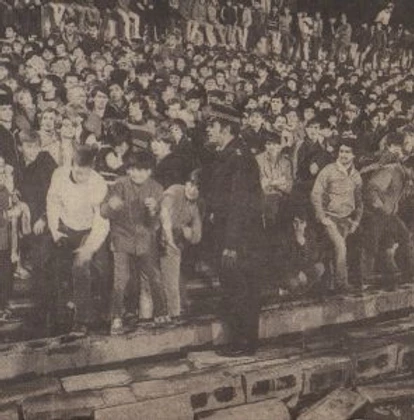 Thoughts and good wishes to you. Dementia is really horrible, so distressing for families.
Sorry for your loss mate thoughts and prayers to you and your family x
RIP. Very sad news.
My thoughts are with you and your family Neil.
Love you mate.
Saw about this from a post on Twitter and was waiting to see you tomorrow as knew you'd be at 'dale.
Big love - we are all here for you.
Overwhelmed with best wishes from Walsall family here and on FB etc. Thank you. Walsall ay we. Lets raise a glass at Dale UTS
Sincere condolences at this sad news.