Unfortunately this isn't a fond memory for me.
The new ground had been sold to us as the answer to our dreams and yet as we kicked off this game the move had seriously undermined the sustainability of the club. Our best players couldn't play in case we won. They had signed contracts whilst we were in the second tier so the likes of Alex Taylor and Graham Forbes were sat in the stands watching a game that they would have been head and shoulders above the guys playing in their positions.
The ground was supposed to be fitted with all the latest mod cons and yet 15 minutes before kick-off hundreds of fans had to be moved from an over-crowded terrace into the family stand due to over-crowding.
The club was in a right mess which of course enabled a certain director to seize an opportunity to emerge through the chaos and do very well for himself.
That the first competitive goal was a Walsall own goal was very fitting indeed.
The 30 years I knew, but August 25th seems a very late start compared to what we have become used to in recent years.
I'd either forgotten or was never aware that the first "proper" scorer was the player who had such a good career with Leicester a few years later. I used to admire him but always wondered if Ada Viveash could have done just as well if he'd been given the chance to play in a good team. Who knows?
I'm normally fairly optimistic as a fan, but I was fearful we could suffer a third relegation. We seemed a shambles of a Club.
I was there with my dad. Strange game & I can still feel the optimism of the new start drain away following the own goal. Our only real tactic was to play the ball up to Stuart Rimmer & hope that he could outpace all of the defenders! I remember too that there was hardly any pitchside advertising boards!
As an aside, dad & me used to drop by Bescot pretty much every week during its construction, after visiting my grandparents. Used to be able to walk around the site unimpeded. I was looking forward to seeing our new modern home & felt really proud that my club was moving into a new "state of the art" facility. Then I saw the stanchions…
Although I know what you are saying is 100% right, memories of those times have much different memories for me personally. Only a few years earlier, it looked like we could bankroll ourselves to the top flight, and now we were facing the consequences, as you mentioned, of long contracts filled with bonuses we couldn't afford. You do feel if it hadn't been for Stuart Rimmer, a ray of light in a very dark tunnel, playing at least one, probably two levels below his natural habitat, we could have easily been on for yet another relegation.
But… as tough as those early years at Bescot were, and they were. There were some humiliating times, some of my best memories came from that time, and it probably shaped how I think about following Walsall as much as the early years education I received from my Dad. I remember the morning of the Torquay game like it was yesterday. My Dad was buzzing, just as much as any first game of the season day's that had gone before. Told me to find the pin badges out with an excitement that to most didn't match the occasion. This was his Christmas day, the best day of the year, first day of the football season.
We had some tough times as a family over the coming years, but one thing that was certain, one way or another, whatever it took, me and my Dad were going to be at the match on a Saturday afternoon. People who we had gone with since I was just a nipper started to make excuses, and slowly disappeared. So it was just me and Dad, walking up from Town to the ground in all weathers, cos he didn't believe in catching a bus for a distance you could walk " We'll beat the bus" In fact there were several times we walked it from Pelsall. Nothing else to do as I had to walk three steps to his one long stride to keep up, than talk about Walsall F.C. No message boards, or social media to get bogged down with, no over complicating anything, just me and the person I respected the most in the world. It was mostly him talking and me listening, cos he had all the tales to tell, but I loved it, I loved it so much. The match was often drab, to downright boring, and yet somehow there was no where in the world I would rather be.
So here we are, 30 years later, and back to square one, still in reality paying the price for things that happened all those years ago Back in division 4, dreaming that we can get out of this division, but knowing that times are tough, and it could all be gone quicker than we can blink. Things aren't quite as pure now, everything is over analysed on every internet platform you can think of. The days when on a Saturday all that mattered was where Walsall were playing and how we were getting there are long gone, especially given the situation we find ourselves in at the moment. For me personally though, I will hang on to those memories forever. As fans and I am as guilty as the next man, I think we forget at times why we even follow Walsall.
For the record, a lot of Walsall fans have never liked Bescot, and hold on to Fellows Park, and rightly so, I am glad I got the chance to see us play there for some time. I have always been of the opinion though, the Stadium is of little importance, it's the people that make a difference. We have had Bescot rocking, I have come out of Bescot buzzing, just the same as I had at Fellows Park.
Anyway I am sure some of this isn't relevant, and just me rambling on to an extent, but regardless, all of the good and the bad (which there is much more) It's all part of the story. Everyone has their own experiences and memories, and I wouldn't sell mine for all the riches in the world.
A ramble it might be but a good one. Lovely memories…thanks.
Being a few years older I had probably become too attached to Fellows Park. Nowhere would have been good enough. Then when we did move it was at a really low ebb for the team after successive bottom of the table seasons.
You're right about people creating the atmosphere rather than bricks and mortar. But Fellows Park offered a fairly rare choice of view. Our standard and starting place was in the Popular cowsheds the away fan side of halfway. But you had scope for a wonder. Stand at the front or sit on a crush barrier at the back. Go round to the street end for a sing song and a knees up. Stand on the big bank. Get in position by the tunnel to provide "feedback" at full time etc etc.
When we moved to Bescot our little crew opted for a seat to align with where we stood in the cowsheds. But I felt shackled. Despite having a ST there, most games a couple of us snuck round into the terrace where we stood from each season thereafter until it was redeveloped.
And I did begin to get a fondness for that terrace. The Jan cup runs, that massive Graydon season began to build some Bescot good time memories. Then we carved it up and back to square one.
I'm with you on it not being all bad at that time but as ever it was the awaydays that were best. Travelling to Maidstone, Aldershot and such to watch us be mostly really bad are times I will always hold dear.
Oh yeah, don't get me wrong, Fellows Park was something else. You could never recreate Gary Childs late winner v Shrewsbury as an example at Bescot. I ended up somewhere far away from my Dad, which terrified him, but I popped up with the biggest smile. Football is completely different now, some of it for the better I'd say, a lot for the worse. I'm glad I got to experience it. I agree also, the loss of the Gilbert Alsop terrace was a big loss. I think the late winner v Forest in the cup is as close to a Fellows Park experience that Bescot has had. My point being, I think it is used as a good excuse, it can't and wont ever be Fellows Park, but we can get an atmosphere when we want to, Might be a bit difficult for some time now of course.
I didn't go in to the away games in my post, as I felt it was long enough as it was, but yeah, it was those kind of away games that we looked forward to the most. The football was rarely good, but the fun we had was memorable. I could write many many posts about those days and never run out of tales to tell. You felt like you were part of something, even though I try and cling on to it, I'm not sure it ever feels quite like that anymore.
Yep I was there. Match day programme is still in my loft
Footage of the second game three days later, including, unless I'm mistaken a classic Marsh step-over.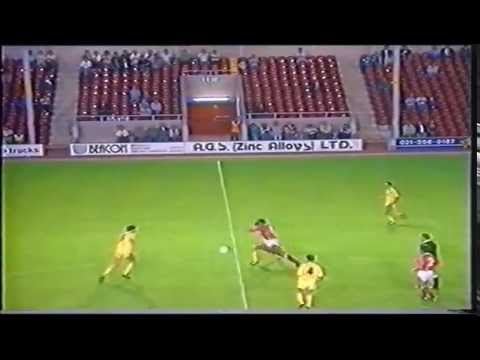 And Gillingham with Alan McKnight ffs sure that was the day when a learner driver was trying to do a 3 point turn in the road behind the stand does anyone remember it?
Had about 4/5 years of Fellows park and still prefer it to this day even though the majority of my time has been spent at Bescot .
I seem to recall, and I think it was the first game, a spectator getting hurt just as the game was starting.
They were sat at the front of the family stand and a bolt or some other metal left-over fell from the roof into the seats below. I recall the St John's ambulance crew walking the poor bloodied bloke out of the ground.
Stuart Rimmer was lively. Good little striker… yep Marshy was number 11, nobody else has that type of quality on a step over!

From memory Rimmer voluntarily took a sizeable cut in win bonus which is why he could play but as I mention above other survivors from the second tier didn't.
Pretty sure Freddy Barber was still with us too but only played a handful of games that season.
Barber was still there, he left at the end of the season I think, when we signed Mark Gayle.
Didn't Rimmer end up at Marine?
I'm sure I saw him play for them against Spennymoor back in the day when I was doing a bit of football reporting in the 90's, played against another ex- Saddler John Tinkler that day If my memory serves…which it might not!
He did. Great memory.
Late 90's. Quite a short spell. The pace had gone and doubt he made more than a dozen appearances.
He was back home in Southport (about 20 miles up the road from Crosby where Marine are based) and became a postman I think.
After his time in football, Stuart Rimmer became a milkman, a job he has done and enjoys, for the last 22 years. He told me recently that his round these days involves delivering to the more remote parts of the area , not so much the built up areas which he says is a relief! He has also cut his hours down a bit which suits him to the ground leaving more time to play snooker! Up to this year he was also still turning out for a local cricket team as and when required.
Said that many times myself it has not been the same since the Alsop terracing was replaced with a ridiculous stand that does not fit with the rest of the ground.