His whole career in football here and the 4 years with Buck produced some terrific memories…
Another fantastic interview Dave, When I spoke with him. Could not believe how down to earth he was and was actually thanking me for his invite. To the railway, Can't wait to see him down there back amongst his old players
Cheers mate. Yes as you say were down to earth and another one looking to connect with our fans. We had a chat about other things too and like many of us of a certain age mentioned how he used to look forward to reading the Sports Argus each Saturday night and the huge disappointment if they were sold out or didn't arrive for some reason. been there! At WFC he was great with the players and helped create a great working relationship amongst the squad. A modest man who simply loves football. Those early summer jobs in the close season amazed me. He certainly wasn't work shy. Can't wait to meet him at the Railway Club.
I remember being on the playing fields when the helicopter landed, i was always there when the players trained, sometimes because i was dropping mini preece off, that was the beauty of working for the council, i could go for weeks without seeing a gaffer


All i had to do was turn a rewashering tap job into a complete bathroom refferb on my job sheet to cover my time

Do you remember ramsden telling the gaffer in the old saddlers club to pull the beer for as long as we stayed for. And he'd settle the tab, the following day, think we fell out of there and out midnight lol, But true to his word he settled the bill.
Whatever he had done i just couldn't dislike him, ok he was a chancer, and he was wrong to sack Pendry and the Buck, that peed me off at the time, but why did they changed the name of those flats on bescot rd from terry ramsden house to something else? ok he defrauded the tax man, so did Ken Dodd and Lester piggott, but they were still liked.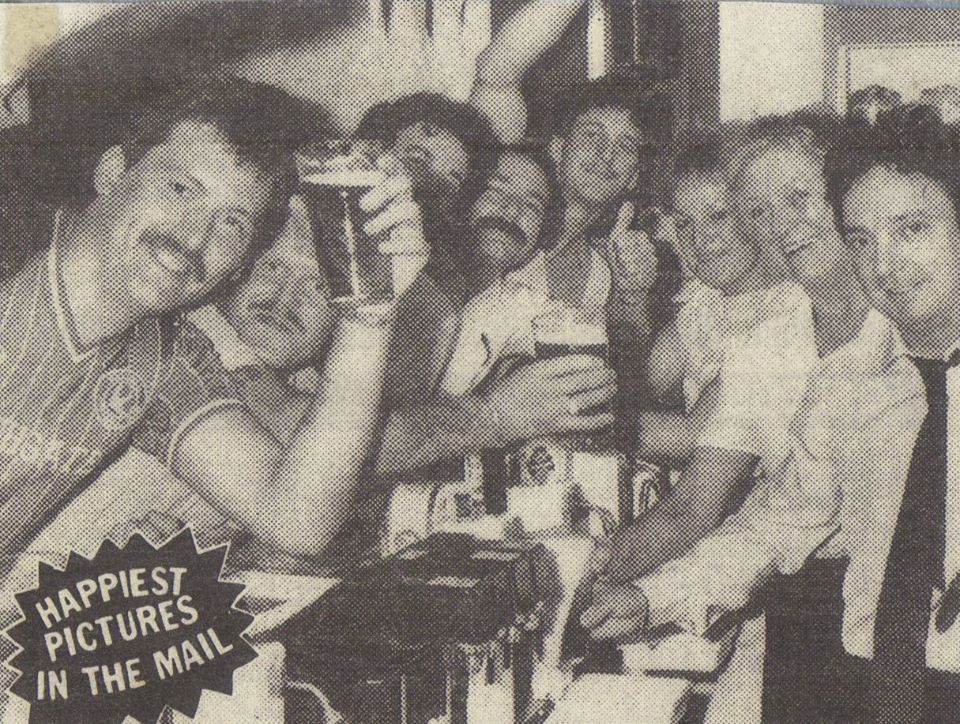 This was taken on takeover day and Ramsden put an initial £500 behind the bar for any Saddler who wanted a drink on him. Next to Terry is Winnie Wilkes who was the bar lady down there for years.
Is that big Steve Shaw at the front?
Did Gary Pendrey score on his debut for us or am I imagining it?
Winnie Wilkes…legendess.
From behind the bar , she shouted at Ted McDougal , whom she'd noticed was being arsey with a young autograph hunter , "Hey Dougal , sign the kids p*****g book"
Looks like him mate, and the blond headed lad with the trash. Went everywhere with Walsall at one time.
I thought it was Ray Train

Remember Derick Thompson walking ramsden from his helicopter to the ground, ,
Stevie is in railway club before every home game mate.
Had some great away days with. Him over the years,
Do you remember spudda Steve's mate ,
I do mate yes

my nephew coaches steve's lad
He did indeed at Huddersfield and he only played 8 games for us.
Steve actualy scouts for the club. Now mate,
He was also warned of every race course in Great Britain at one time, Had a good string of racehorses. Which he promptly. Changed. Over into the ownership of his wife at the time
Steve is also vice chairman of Issa chunkster