I will ask Stan

I think that's the answer, bigger squads, plus more than one sub. Paul Jones, who I mentioned above was a good sub to have, not because he excelled in any position, but because he could do OK in a lot.
Yes Stan confirmed he did start a few games as a striker the one he remember most is against Brighton where a defender broke his shoulder bone and was due to be substituted but Alan Deakin was complaining about his ankle so it was decided to replace Deaks instead with Stan taking up his usual defensive position for the rest of the game. From the days when only one sub allowed.
I can remember Paul Jones playing a few games as a right back, and didn't Mark Taylor from the same era also play in midfield and as full back. Ian Paul first played as a right back. I saw Gary Shelton play a couple of games at left back, with Colin Harrison playing in the middle of the defence. Injury crisis I suppose, which probably meant two blokes out back then.
I only remember Colin Brazier playing centre half for us, but for Wolves he started as a centre back, but then was used to fill in when midfielders like Hibbitt or Carr were injured, and he also had a spell at left back when Parkin was out, I remember a Dingle mate of mine telling me Col would be Englands left back for the next decade.

I have recently had a new computer and have spent the last month on and off setting it up and thought I would try out your 74/75 squad picture to see if I could clean it up a bit.
Its come out OK I think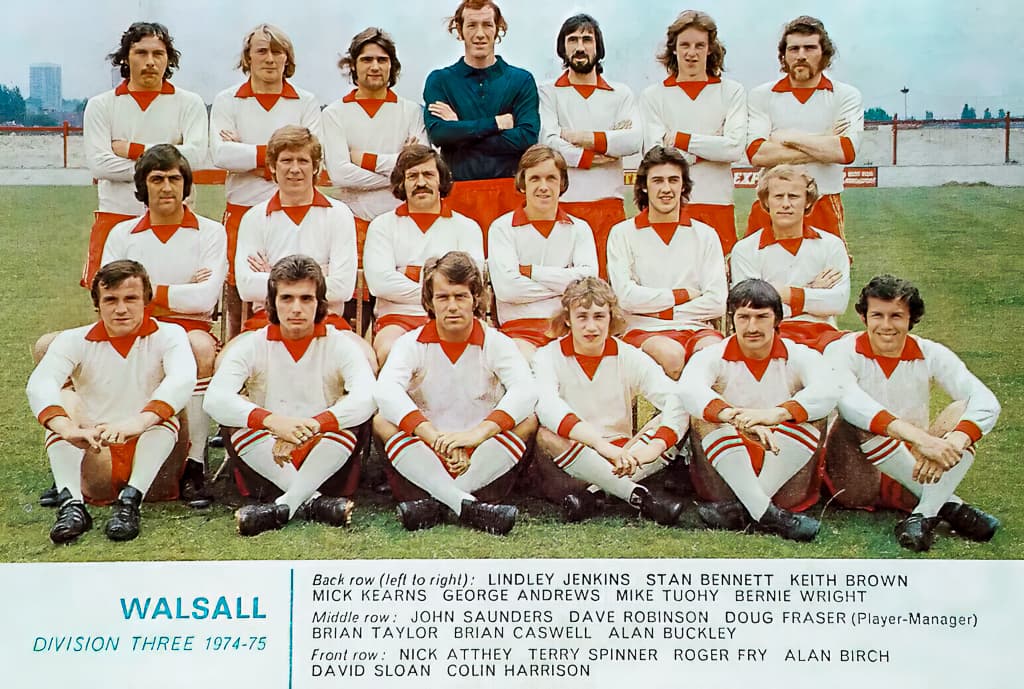 Superb, everything about that picture is great , the best kit, players in black boots, 70s haircuts, and some real WFC legends.
Well done sir.
I agree… apart from the 'haircuts'

I didn't do badly identifying them. Front two rows ,everyone. Back row ,Jenkins and Brown I'd either never heard of, or completely forgotten. I guessed Tuohy must be one of the three there I couldn't identify, but didn't know which one he was.
Terry Spinner got two goals in the 3-2 win at Watford last game of the season at Vicarage Road that sent the Hornets down. He eventually got a free transfer looked a useful player but was never going to force a regular place with Wright, Buckley and Andrews around.
Yes I thought he was ok but with the other 3 in the team his chances were few and far between. I think that match at Watford was one of the first covered by Radio Birmingham but my memory may be playing tricks.It often does these days.
Radio Birmingham started covering the local games around 71 or 72 ish I think from memory. Two one-club men had testimonials a few days after the season ended… Stan Bennett and Nick Atthey with Stan annoyed at being released by the club just a couple of days before his game. 5,727 turned up for his game v. Wolves and Nick had a gate of 8,498 against Leeds.
The first time I was aware of it was by accident for a match at York. Turned on the radio and there were the reports . Curiously the match was on a Monday night, so looking at the head to heads it was probably a 1-1 in September 1973.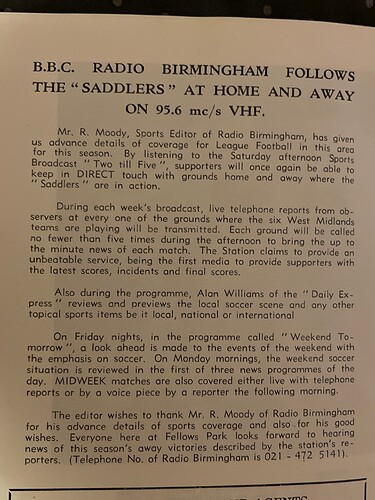 @Shrewsbury-Saddler Found this in the 71-2 handbook. Seems like Radio Birmingham we're covering us the previous season .
I reckoned they'd been going for a while before that. Any idea why that match was played on a Monday night? Not that it matters now.
@Shrewsbury-Saddler I'm not sure of the answer in the 70's we seemed to play a handful of games on Monday night (home and away) each season. It didn't make much sense at the time. From the late 60's to around the mid 70's we would play several Friday night games too home and away. Away seemed to be at Tranmere, Southport and Southend. We requested a few Friday night home games for experimental reasons 'Pay Night Soccer they called it as in those days many fans were paid weekly with the club thinking that may inspire a few more to turn up!
The story with Tranmere was that they preferred Friday nights because, in those days. a Saturday kick-off meant clashing with either Everton or Liverpool.