If we were to maintain that form (2 points per game) over the remaining 18 games we will end up with 72 points, enough to have snuck into the playoffs last season.
It's some ask to be fair …If we can get a win at Carlisle and follow it up with the home game against Morcambe we will have momentum and confidence to push on though.
Just wish it had started a touch earlier. The play-offs are a long way off. But we can carry on and see what happens. If we miss out, The good feeling of being/finishing the season in positive style will carry on into next season.
Great, thanks. I'm going all the way to Carlisle and you've just ensured that we'll lose, players won't be up for the game, hardly a shot on target and the manager saying afterwards that he'll be shipping some of them out next January!
On paper we should do which probably means we won't

Would be nice to get the 2 wins before the Crewe game though, they should bring a few down so would be a cracking game
It always appears that we don't do well generally against 'easy' opponents. This format HAS to stop if we are to creep into a play off spot.
These two upcoming games would seem to be well winnable, so come on lads don't let us down again!
Wouldn't it be great to see us actually crawl towards those play off spots…
Thanks for sharing.
How's it look for the last 10? And is that from an app or website?
If we do end up sniffing around the playoffs, I can see our GD killing us. Hopeful for next season if we do though, if Clarke can finally get a team firing before the clocks go back.
it's from our fishy friends in Cleethorpes
https://thefishy.co.uk/formtable.php?table=4
Here's that last 10 table from the same source. Unfortunately it doesn't look quite as good: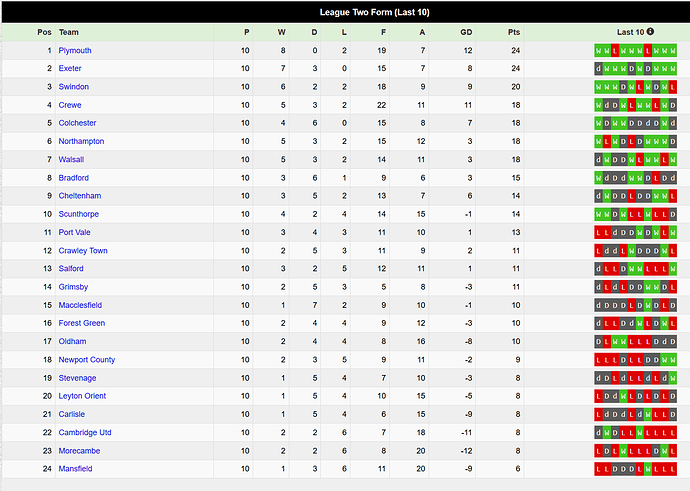 Thanks for that Superstar. I'll bookmark that now.
Last 10 form still decent. Can't imagine it's been any better at any point earlier in the season.
This website is pretty good for stats - home and away tables, latest form etc.
Some posters might actually improve in the prediction league now. Hope @matt_saddlesore has bookmarked this.
Damn! Didn't think about that. Me and my big mouth!!