Just watched his latest video.
No mention of Fullerton.
Fast to pick on the fans once again, but no mention of his own cock ups.
Waffle, waffle, lecture, almost say mid table mediocrity, waffle, feint praise, big up for Roy, bit more lecture, end.
Pushing for the play-offs if we hadn't lost 7 on the bounce. If we hadn't of lost those 7 Taylor would still be here and our form would not have been the same as it has under Flynn.
He is starting to sound more deluded with each Pomcast.
Not sure how you can sustain a play-off push that never existed in the first place.
There or thereabouts! We didn't enter the top 10 at all during the season! Honestly does make you wonder what constitutes success and how the board and executives are appraised. Back slapping all round for being nowhere near the playoffs!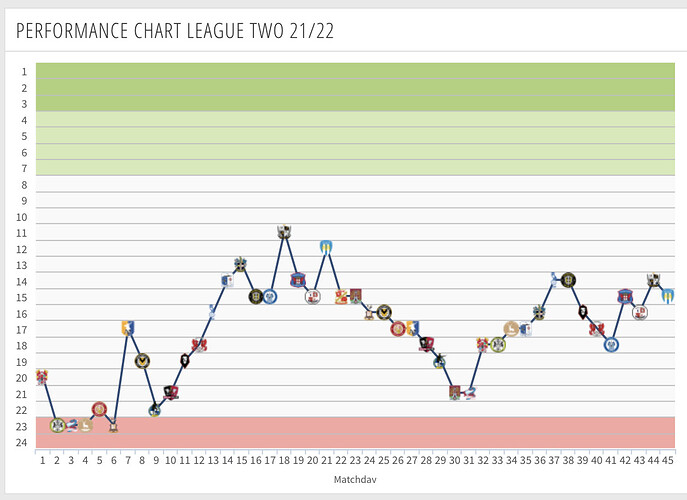 Pointless video again, just stop doing them.
3 minutes moaning about a handful of fans, what other chairmen do this?
So the playoff push was one week when we attained the dizzy heights of 11th.

I love my pomcasts !
I wanted something on the DoF you know things fans want to know
Season ticket sales up! Has to be good news.
Still no acceptance that this squad assembled is nowhere near the level required is staggering. We can argue all day about quality but from a simple cover point of view, it simply hasn't got any. He wasn't lying when he said he knows sod all about football.
He's absolutely deluded.
He's also bottling a fans focus meeting because he won't like the questions asked
.
I got through the first minute and 20 seconds and turned it off the blokes delusional and he's so out of touch with reality it's unreal.The more I hear him the more he annoys me he really isn't living on this planet it's all ifs buts and maybe's if only this would have happened if only this hadn't have happened blah blah blah blah yawn!
Twelve minutes? Sorry, life is too short…I can't be bothered listening to his deluded shite for that length of time.
If he ever starts talking sense, I'm sure you will all let me know and I will start listening again.
I'm really surprised, but fair play to those who have ought them.
I've emailed Whittaker (again) to ask when the promised fans focus meeting will be.
I'll pass it on

No acceptance really of how rubbish we have really been. He described the season as up and down and at one point said we will finish mid-table. I don't call between 19th and 14th which is where we can finish mid-table. Not up and down at all just utter shite with a few decent wins. No cup run, and a similar points tally to last season.
Fans have turned up again though buying season tickets. Give us something back.
The main point of the video and that of the Poundland unveiling, was ensuring that Whalley got namechecked, to remind us critical folk just what an asset he is to ensuring our rent payments are covered.