21 years ago, makes me feel old! Great day out, absolutely loved the wolves fans protesting afterwards. Half that wolves team ended up playing for us.
Was a great day. My Dingles supporting uncle (Warwickshire so no real football clue, and joined us in the away end) was shocked at my language and exultant behaviour.

Indeed a great day. The concourse at half time was absolutely buzzing after Rammell's goal. The protests after the game were hilarious. A Wolves season ticket went skimming past us, so my Dad picked it up as a keepsake for a memorable day. Few seconds later a bloke taps him on the shoulder and asks for it back, just happened to be one of his mates who was heading back to the same boozer as us !
The bank holiday weekend only slightly spoiled by conceding a late equaliser on the Monday (against Norwich I think) after we had missed numerous chances to finish them. Still no one can ever take these days away from us, more great memories that Sir Ray left behind for us.
What a day! We walked past the demo after the match, having a good old snigger at the revolting fans.
I have a memory of Tony Daley coming on as Sub, the Dingles giving him dogs abuse as he waited, and us responding with a huge ovation, as if he was Buckley, Richards and Alsop rolled into one. A couple of weeks later a Dingle friend said "you just did that to wind us up, you don't like him any more than we do" and I said "yeah, and it worked

"
That pic is brill any chance ya can email me a copy ???
I remember this well - I wasn't at the match, I was on a pitch and put course in Fairbourne Wales listening to the commentary on a trani radio with a signal from WM barely coming over. My mom had died the previous June, she was at the Oldham game when we got promoted and something wasn't right - there seemed to be no joy in it for her. My best friend was camping at Barmouth and said to come down for a break so I did. When the final whistle went, me and her extended family, maybe 12 or 13 of us, all Saddlers, were dancing round the last tee with our clubs in the air getting some funny looks but we didn't care, we'd gone into the Wolfs lair and whupped em!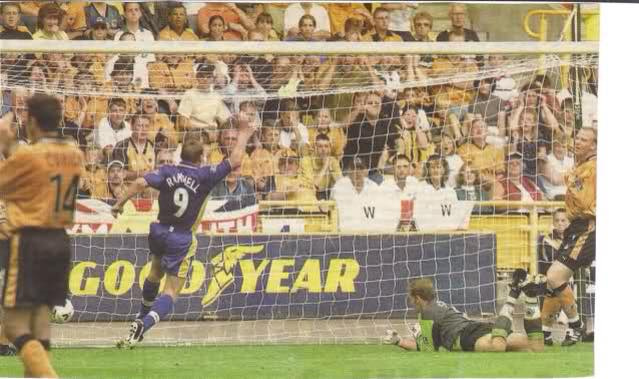 Still got a draw full of Sports Argus' and Sporting Stars' from this amazing era with all the pics. What a wonderful time to be a Saddler, before everyone was a football management expert as well - we just enjoyed the occasions.
Was indeed a memorable day, right up there with anything I have witnessed in 50 years. Just wondered who the 5 players that were mentioned that Colin Lee brought in. Corica , Emblem and Osborn i can recall but not sure who the other 2 were.
Saved me a job

WOLVES - Stowell, Muscat, Bazeley, Robinson, Curle, Emblen, Osborn, Flo, Sinton, Corica, ( Naylor ), Larkin ( Sedgeley )
Love the line "Chris Marsh had the better of Andy [ex England international] Sinton all afternoon".
We had Darren Bazeley for a good few years at right back, and also Carl Robinson on loan for a period in 2003, although in the article he's referred to as Colin

Have I imagined that we had Andy Sinton on trial one pre-season? 2002 maybe.
I was there, but in the Wolves end behind the goal. My Wolves supporting mate got me a ticket with him & I was told to be on my best behaviour. When Rammel's goal went in I leapt out of my seat but got yanked back down in double-quick time. Managed to get out of the ground in one piece & had a great night out in Wolvo that night.
Very happy memories indeed

Any suggestion of a Dingles-associated picture leads to … "You've let us down again" (Remember it?)
Wasn't there but later was going through ceefax match reports. I was giving my 11 month old son his milk. Not a word of a lie, when it came to Wolves 1 Walsall 2 he pulled the bottle out of his mouth and burst out laughing until ceefax rolled over to the next match. At this point he put the bottle back in his mouth and carried on. He grew up to support the Saddlers.
You spotted the deliberate mistake! Cheers its been edited now.
Bloody hell. Darren Bazeley played 100 games for us and I can't remember him. Not sure if that reflects bad on me or him. Do remember Carl Robinson. Think it was the Colin that threw me off.