Looks like the E&S have finally roped someone in to replace Joe Edwards.
Roped someone in

Spot on
Let's hope he doesn't skip any games
After today he should be jumping for joy
He looks like Benny Hill…

Poor grammar aside, his first match report is a reasonable effort…
They call him Earnie and before he became a journalist we was the fastest milkman in the west.
Perhaps we've been spoiled with Edwards & Masi, but his match coverage is pretty dreadful. Injury time winner and this is how you announce it: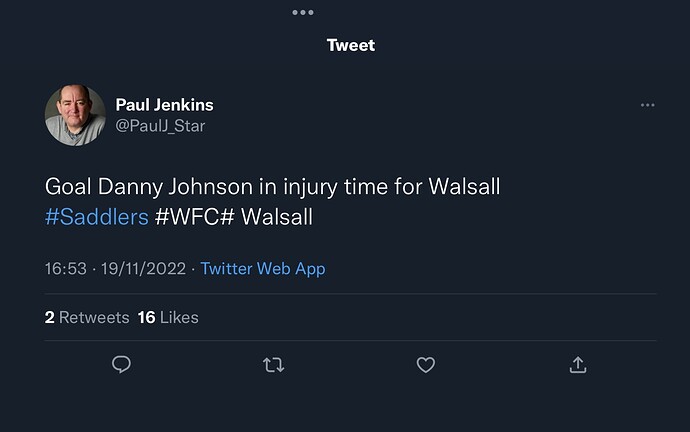 I know some of it is a bit of an act but christ at least our previous few reporters have shown some excitement/passion when covering the games in their tweet commentary.
Yes. He also doesn't appear to have any interest in interacting with supporters. Very disappointing.
Needs to up his hash tag game. #UTS
Looking at his photo, he's not the usual young, up and coming journalist that gets Walsall as his first job, and then uses it to progress up the journo ladder.
Could be stuck with him for a while

Noticed in his match reports he doesn't seem to know what formation we play either. Wonder if he actually watches the games or just cut and pastes bits of the AP coverage?
When you order Joe Edwards off Wish

we we're spoiled for a short time.
It's a shame. I think Masi, Keane and Edwards all upped our coverage, not just with reporting but podcasts, opinion pieces, detailed Twitter updates during a game.
I don't even bother reading the pieces he does online. Read a couple and they were no longer than a couple of paragraphs of just quotes from the official club Twitter feed interviews. Really poor.
Could be worse #nickmakeitup
He is awful (so far).
Massive massive shame. Is he even in the ground?
Happy to welcome Paul (Jenko1970), who will be joining the forum (at his own request) so he can engage with supporters. A real first for an E&S reporter to actively participate on UTS, so I'm sure you'll all make him feel welcome.
Hope that he has done some research before he "engages"

(or plenty of time on his hands).
Seriously though, that sounds like good news.