Sad to hear that our former player has died at the tragically young age of 61.
RIP.
Sad news, Condolences to the family.
Think he was the first player to captain the club at Bescot Stadium. RIP
Once had chat with him in pub he ran here - nice bloke.
He was indeed our first ever captain at Bescot and I'll find the appropriate picture later.
He was a thoroughly decent bloke and a fine player.
What a tragic irony that we are in the same position again and need to find someone like him again !
RIP Peter…a wholehearted player who did his best in a poor team.
RIP Peter and condolences to the family

Bleeding hell that's terrible news. Was just reading an interview with him a couple of weeks ago.
Remember coming home from Mansfield last season at Fellows Park at a time when my little traveling group were banned from all pubs in Lichfield (another story). We'd had a rare away win and fancied a pint and a few of us needed the bog, so we thought we'd pull over the minibus and chance our arm in the Three Tuns. Those of us that needed a pee went round the corner and found an obliging wall while the driver went in to see if there was any chance of getting served, no chance as it turned out.
I was muttering away to the bloke next to me at the wall and when I looked round it was Peter Skipper suited and booted in club blazer having a pee with us for some reason. When he found out we wern't getting served he went back in the pub, next thing we were served, and not only that he paid for the round and stayed and had another pint with us, wouldn't take a penny for a round of about 12 pints, can't remember much about that awful season, but always remember that hour in the pub with him and my mates.
Sad news.
This is terrible news. I was only talking about "Skipp" at the weekend. My mate and I were discussing how much the current team needed a player like him - a seasoned pro in the middle of the defence not only to organise them on matchdays, but to set an example off the pitch too.
He liked a social pint when appropriate, but he once caught some of the junior members of the team boozing in The Swan in Pelsall on a Thursday before a game. He let them have both barrels there and then in the pub in front of the other customers.
A true professional and a really nice bloke - condolences to his family.
Hello Tiger,
I can't offer video footage (it's very rare indeed of Walsall from the 1980s and usually comes from anyone other than ATV / Central), but as promised earlier I can offer our opening match at Bescot: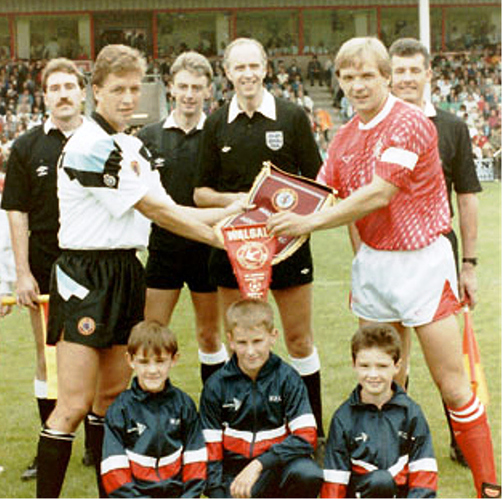 18th August 1990 v Aston Villa
I've got some clear and some hazy memories of that day when Hull won promotion, the goal…was it a direct free-kick he scored? Clearest memory I've got (as then I used to spend my matchdays moodily stood next to the fence separating the fans) was of a sort of "post-punk" caricature Hull City fan, really tall-bloke, exploding hair, bare torso, wearing a kilt and DM's. Looked like an extra from a Tempole Tudor video.
He didn't half take some stick off our fans (we were crap at home that season so had to find something to amuse ourselves), but did we get it back when the goal went in. Funny the daft things you remember!
Was Peter Skipper in the team for the Dave Bamber game? *
It's known as the Dave Bamber game, because he only played well once (27 March 1984)