The boys are back! and all smiles judging by the photo's on twitter.
Notable by his absence from those photos, I'd say. For someone previously so prominent at the club, I'd have expected him to be shown.
I think DJ is a little camera shy.
Tying his bootlaces probably

Does say the 1st group are back in for testing on Twitter. He may not be in the 1st group and might not even be there today
Tbh I thought it was Wednesday that everyone was back it appears that was my bad.
But it could be that they are back in groups for testing back as a group Wednesday, just grasping at straws as the guy I was talking too was very certain and usually spot on. But we are all human I suppose


One interesting thing from those photos is to see the physique of Marvellous. Often, when youngters come through into a senior squad, we say "they'll be ok when they bulk up a bit" whereas here is a lad with, seemingly, the physique of a senior footballer. That's a decent head start if he has some football skills to go with it.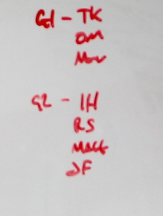 Up on the white board.
Wouldn't imagine they have sessions on grass until later in the week.
Wednesday I believe, two days fitness work and checks. Those back today all look happy and healthy which is all you can really ask for so a pleasing start.
2nd group have arrived, but still no Daniels (or Evans, Hussey)
Evans was in the first batch wasn't he ?