1st matches will be Villa v Sheff Utd and Man City v Arsenal.
No fans though.
Couldn't give a flying one.
I'm only interested in that it gives a pointer as to when we might get to play again: that article has the final round of matches on August 1st/2nd with the FA Cup final the following weekend. A 4/5 week close season suggests that the new season might begin in mid September.
However, elsewhere in the Telegraph it says that the vote on the championship/league one continuing (or not) has been put back till June 8th - if they voted to continue, that would mean that they would be several weeks behind the premier league, with the 20/21 restart consequently delayed till perhaps end of September/ early October.
I do. Something to watch at least.
Once that's wrapped up we will have more of an idea what's going on for the future I think.
I really hope i don't have to wait till next year too go into a stadium, I'm hopeful of a winter return.
The prem is still fun to watch while the Villa are in it getting pumped.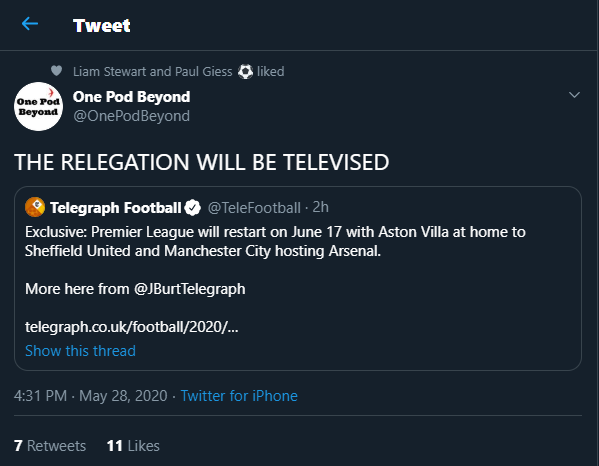 Great news, I for one will be looking forward to it!
Might get myself dressed up for the occasion and buy a Sheffield Utd top just to wind up my vile next door neighbour

Class. Something to break up the work, sob stories and Netflix series.
Can't wait, i am in a dream team league with about 10 people all putting in £20, and they were going to null and void it with me leading, come to daddy

I can just see it now - Villa will be losing 7-0 after 89 minutes and the game will be abandoned due to a one man pitch invasion.
Nah the game will abandoned due to COVID. The testing system will be that good by then a Villa player will cough after 89 minutes ,be tested immediately and the game called off as he tested positive.It will later be announced it was a false positive and the game will be replayed!!
Prepare for Liverpool fans turning up somewhere, mob handed , and ■■■■ it up for all of us.
Because they always do.
Fact,
25 games will be shown free to air on Sky's Freeview channel 11 Pick starting with Everton v Liverpool on the first weekend.
BBC will also show 4 live games.