Just came across this on YouTube, sorry if previously posted by someone. Disturbing lack of security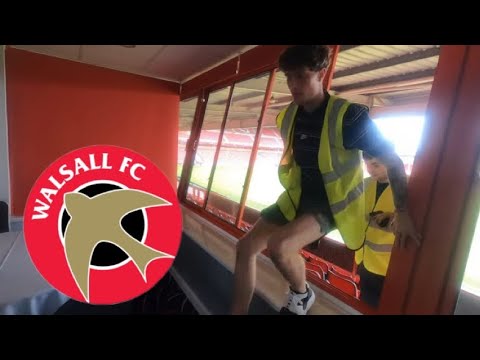 The security guards will have assault rifles now…
Hope they paid their 1888 club membership
Is it sneaking in if you just walk through the front door?
That is terrible. Where are the people on the main entrance or why isn't it locked or only accessible with a swipe card?
That's just Gilman and Whalley in a couple of fright wigs trying to find the Boardroom isn't it?
That ain't good from the club!

Maybe their usual turnstile was closed?
The lengths fans will go to see the famous Walsall

Maybe the new owner having a quick look around
When they were down next to the pitch one of them says "they said they'd be locking up in half hour"

To be fair they could have come on a match day! The times I've walked through the entrance in the middle of the Homserve Stand (up the stairs to the concourse bar) because my turnstile has been closed without showing my Season Ticket on my phone. Once up there bypass the steward on the doors in the bar area and go to the one at the end where the toilets are and no steward, voila free entry for all and sundry.

Yeah, it's been like that since they started allowing people in to use the Stadium Suite prior to the game.
The steward on the door up to the stairs is a joke because even if there's someone there they disappear just as the match is kicking off so you'd only have to hang around in the bar until they'd gone and go up for free.
I'd assume when the Saddlers Club re-opens they'll stop people accessing the Stadium Suite before the game unless they're sitting in the middle/upper.
It isn't an excuse, but these lads have done the same thing at West Ham's ground on their channel.
Broke into trophy room snd stole the red and white carpet.
Not great being able to just walk through the main entrance… Fair enough if they'd climbed up onto a roof and got in but they've literally just walked in as if they're staff members, embarrassing. First investment, an ID card reader for the entrance!
Or a rottweiler

Never mind robbing the carpet out the trophy cabinet I hope peoples details and data is secure if people are walking off the street
It was a criminal offence it's now felony in my eyes.