Nice to know we are not alone ,Always found the baggies as a well run organised club and fans at heart so bit of a surprise .I wonder if there fans will be ripped off by tickets masters add ons too

.That's if they manage to buy one
Yes but they aren't charging their fans a £1.25 per ticket booking fee to come to the game like our club are doing to us.
Spookily they are another non-charging club who use a provider other than Ticketmaster. Just saying …
Well if that's the case maybe it's a route we should be looking at because to be honest it puts me off buying tickets
£1.25 Puts you off watching your beloved Saddlers


It dose mount up over a season and your buying more than one ticket tho
And I haven't got your cash chunk
I think it should be per transaction
You will have more than me in a few more years if you stick it out on the old council pension scheme

Always been on the straight and narrow chunk

, That's where I've gone wrong
I have run a few gauntlets mate i will admit that

A few

Do you do e tickets on the cheap

I might put it in the book

how long has it got to be before you can't be arrested for a crime?

How much would it cost in postage for them to get sent to your house or in travel (petrol/bus fare) fees to get to the ticket office to buy the tickets in person?
I can't speak for @Swiftlydoseit, but for me the answer would depend on a couple of things. As an ST holder in the Homeserve lower it would only be home cup games for my usual seat (or the main stand for most EFL Trophy games) or for away games that I'd need a ticket (BTW I go to every game).
Most clubs (including us) do an early purchase discount so I am in the habit of buying them in advance from our ticket office to save a few quid but I also get them for games without discounts too to save me hassle and guarantee no danger of not getting in if we take a few fans. However, you can usually pay on the day - and most even still accept cash at the turnstile (including the Homserve lower until this season) so often no need to queue at a window if you choose to do that. There is no fee for doing it that way other than you've missed out the discount if there was one.
For 99% of these games there will be another game at home before it during the on-sale period. So either I go to a window before/after the game and buy tickets for all the upcoming games available in one go face to face (no charge) or (more usually) I buy them over the phone and just pick them up from the collection window (again no charge).
On very odd occasions there won't be a convenient home game to do this (or maybe there is but it gets cancelled) so I would need to either make a special journey or get them posted. If I had to drive from home (I live in Telford) then yes it would cost me more than £1.25, but luckily for me my dad lives closer and will pick up my tickets when he gets his own, often when he's going to Morrisons or the retail park anyway, so not much in the way of extra petrol for him. If I have to go for the postal option then the extra cost is £1 per transaction (NOT per ticket) for postage.
So, to answer your question, the extra cost on top of the face value of all the tickets to me, over several seasons, has been fractional. Certainly much less than it would have been if I'd been charged £1.25 every time (and per ticket not transaction) to use the online ticketing system.
Now to be fair, there has always been a surcharge on using the online ticketing system (which was previously for paper tickets not eTickets) so it's not like they have only just sprung it on us, but you didn't have to use it. They are now mandating it has to be eTickets by default for home games, and discouraging window transactions in favour of online. For 21/22 onwards away games will be a mixture of eTickets and paper depending on the other club, but using our online system you will be charged even if the other club don't charge a fee on their own online system (unless, like Kidderminster, they also handle away eTicket sales themselves). Or you use the phone/window and don't get charged the booking fee.
For those who can't do eTickets on a smartphone or home printing and have to get paper ticket, you have to use phone or window. If you don't have a card so have to use cash then it's window only.
I'm happy with eTickets over paper and I'm happy to use the online system over phone/window if that is how the club wants to move forward (my dad isn't as he doesn't do technology), but I object to being forced to use the online system then charged for the privilege - especially when that extra charge doesn't even go to the club.
Where is the incentive for me to go totally online and leave the phone/window option to those who can't (and with less of a queue for either)?
As I've pointed out on other posts, Kidderminster, Cheltenham and Tranmere don't charge their fans a booking fee for using their online systems, so why can't we?
Totally agree Andy. My personal view is that it is time to abolish the early booking discount/late booking penalty (never sure what it was) as that was designed to discourage people from buying on the day and clogging up the ticket office. Now the objective is to encourage people to buy online the pricing system should reflect that. So: buy online = no fees; buy by phone or at the ticket office = a small surcharge per transaction, not per ticket. This also recognises the reality that if I'm buying online I'm doing all the work, if phone/in person the club staff are doing the work. No problem with £1 surcharge for postage. Re online fees: either switch away from Ticketmaster or the club should cover their fees and effectively recover them through the phone/in person surcharge.
Scunthorpe is the 1st game I can make so went to book tickets online for digital delievery but the system is trying to charge me for postage, need to phone club monday.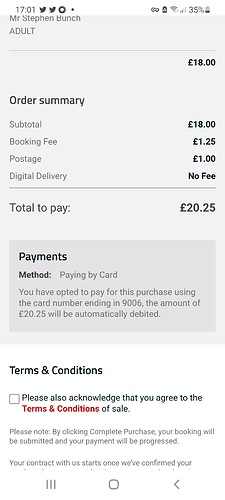 @SirKennethArthurDodd it did exactly the same to me. Booked for collection for forest green and it charged me postage