Enjoy an evening of undoubted thrills and spills here.
Blues youngster Mitchell Roberts, touted on here as a possible signing, has joined Carlisle.
It's criminal if we don't sign a centre forward.
Oh we'll fail alright, that's the Walsall way. Joe Edwards has already said he's not expecting much, and nor am I.
Thrills and spills indeed!
How long to 8.56pm? #nomark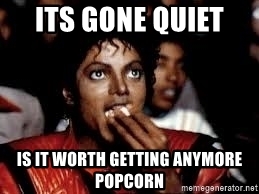 Well Matt Taylor has just left the stadium. Heslop has just left also
Is that the Heslop, the 'littleoldWalsall' guy, who supports B'ham?
Supporters liaison officer who doesn't support the club. Says it all!!
Other media guy Paul just shut the shutters and left so unless deals already done and left until later and push of a button on the article not looking great

Are you camped out in the car park?
Yes


nah my son has football here. So I'm just sat in the car catching up on emails and messages.
There is barely anything in League 2
Remember Pomlett saying we are developing a close relationship with the Villa recently?
Just have a look where Villa have sent their players.
Have u not worked out. Nothing Pomlett ever says turns out to be true