Happy New Year everyone!
May have been spoken about before, but has anyone thought about a detailed kit history for the club?
My wife bought me for Christmas a poster of several classic kits for Walsall over the years. It dawned on me that the swift on our previous crest was red, but for some reason a lot of kit websites show it as black. From what I can see it has never been black, so I have no idea where this misconception was created. I started digging through to archives to see if this was the case, then after gathering several images, I thought why not put them all in one place?
Sites for Man United and Oxford here are pretty detailed and cover away and GK kits:

Specific to Walsall:

https://www.colours-of-football.com/colours03/eng/walsall/wallsall_1.html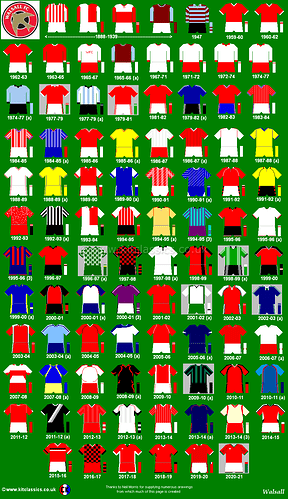 Gone far back as the early 90s for now, but the earlier ones are harder to find I think. I have found more success when searching for individual players rather than Walsall kit 1991 for example.
Your thoughts?