Atleast for a loan plater he gives 100% unlike others,
Five and a half years ago…the current Port Vale DOF, and then Bury manager had this to say about a 17 year old George Miller…his attitude and work rate etc. I wonder who might be sniffing around if he's bagged 12-15 goals come January??
No chance. Proper striker. Too good for us unfortunately.
Yowm an old romantic when it comes to football, Geordie
Interesting you mention the Posh chairman, I don't know if anyone listened to his podcast (highly recommended) but he constantly talks about the low risk of spending money on a striker.
He sees it as a fee that's usually paid in instalments anyway and the return if you get a good one can be astronomical. It makes complete and utter sense from both a footballing and commercial viewpoint for WFC to try and get this deal sewn up ASAP.
Yeah, I'm beginning to see a problem…
Sorry but money should not really be an issue with regards to signing miller with the Adeybayo Jules and Rico money received. The big issue will be if he wants to continue with us or try himself at a higher level.
The reality is that this is a critical opportunity for his footballing career.
Great to see him being so engaging and effective.
His type will always be greatly appreciated by Walsall fans.
Best striker we've had in years.
Doesn't take much beating though looking at the absolute tat we've had since Bradshaw

The finish for his second today, sublime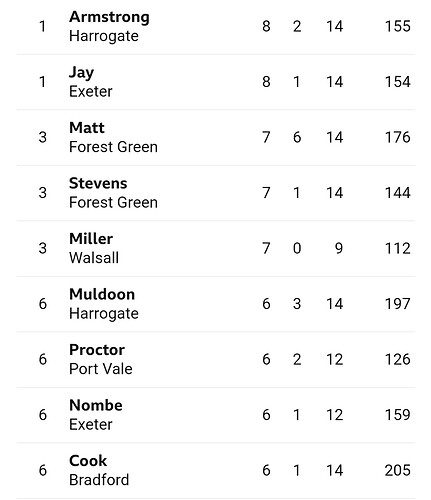 Joint second top goalscorer in the league and has played 5 less than others around him.
We HAVE to keep him in January if we want to be anywhere near the top 7.
It plays out a few ways none of them good for us I bet !
It's a season long loan can they recall him ?
Common sense says a footballer would see the season out put in 20 goals and move for good money while his stock is high … most players aren't that clever though
Barnsley are struggling possible recall ??
He will end up somewhere else. Barnsley would want money for him!
I disagree with people who say he would not sign for us, I actually think he would sign today given the opportunity.
Been universally disliked by fans of other clubs hes been at, yet here he is a fans favourite.
Does not care what his parent club thinks.
Playing well, scoring goals and enjoying his football, I think he will appreciate what we have done for him and what he's doing for us.
He knows that if he signs for us and continues to play well and improve then that big move will always be there.
The risk of signing for someone, not get the start he wants and fans turn on him will be too much of a risk, and I think he will know that.
If the club are going to give it a real good go as they said , or as the chairman said we/he should be pushing the boat out to sign him.
If we don't sign him , or make a proper bid to make him a Walsall player then I think the chairman will lose some credit with the loyal fan base .
I agree and I hope the club are ready to do a deal for him and Meyenese . It could be a win-win. He would know that if he continued to score a transfer to a bigger Club would come whilst we would benefit from his goals and he would benefit from being supported and loved by a growing fan base.
Meyenese is another who we should do our utmost to sign. We must have plenty in hand from the Henry money so lets use it and boost supporter morale and get more people through the gates. I am not usually someone who demands signings but this opportunity must be taken.
Another factor is that in my view there is more to come from this team.We had a glimpse of that yesterday.It must be great to be in a team that is going places.
Something else that struck me yesterday. Our George asked if he can have the home kit for Christmas. I didn't get him one this season, firstly because I didn't realise he was going to become a regular at the game, it came out of the blue a little. Secondly, I got him one of the ISSA retro ones around the same time and last seasons kit still fits so I left it.
I said yes obviously, chuffed to bits he wants one. He asked if he could have Miller's name on the back. I said to him we better wait because I don't even know if he will be with us after January. His little face dropped a little. Miller and Rushworth are his favourite players.
Apart from the fact we want and need quality players at Walsall, these kids need players they can relate to. He is still talking about Oztumer because he is the last player he remembers that really got him excited. There has to be a way to get him to sign for the club. I can't imagine Barnsley will be after a huge fee, although I guess it is going up with every goal he scores. Even if we offer him a stepping stone kind of contract. As seen many times before, half a good season at Walsall and players can get themselves a decent move
I agree with a lot of what Geordie wrote above. If it was Peterborough the deal would already be in place, and they may well then sell him on for a profit in a year or two but they would have the next shortlist of players lined up. It has to be a better model than ploughing money into an academy that isn't bearing much fruit.
Absolutely this, he wasn't exactly singing the praises and delights of Barnsley in his early videos after signing. Playing somewhere that wants you and sees you enjoying your football can be a big pull. Taylor has sold his vision to him to get the loan deal completed, if he can sell it to him on a permanent basis and we keep progressing then it is a possibility.
He is out of contract in the Summer as well so clubs won't go spending vast sums on him in Jan if they can pick him up for free at the end of June for nothing. It's a similar situation to us with Adebayo last season.
Does anyone know why we took him on loan in the first place rather than sign him on a permanent deal? Was it our call, his call or didn't Barnsley want to sell him?
It's a good question and I don't know the answer. The cynic in me makes me think it would be Walsall's decision. That is just from years of seeing how we go about our business and nothing more than that though.
You can do loan to buy deals which is something we should possibly look at in the future when it comes to players like Miller or Meyanese. This obviously does depend on the parent club being in agreement too, which we obviously don't know.
I'll be honest, when we signed Miller, it felt like a panic last-minute signing because we had failed to attract anyone else, so credit where credit is due.