Good old @Belphegor he's got some dosh

I didn't know Ted Danson was a Saddler.
Fantastic work.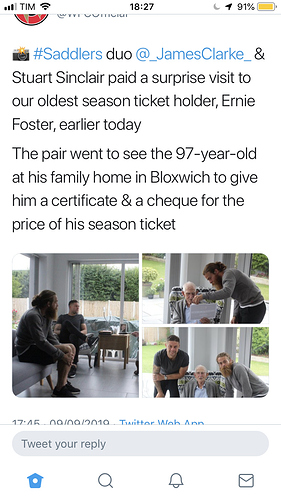 Fantastic touch by the anonymous fan and the club:
The anonymous supporter, who lives overseas but has himself been a Saddlers' Fan since the 1945/46 season, contacted the Club following Leigh Pomlett's takeover at the end of July and has expressed his desire to annually donate the price of a season ticket to the Club, to be gifted to one worthy fan per season and we couldn't think of anyone more deserving than Ernie.















I think this sort of initiative is so important to try to re-build that connection between the Club and supporters.
It actually looks like we've got some decent blokes at the heart of our team now.
To be fair, the club has worked hard on this side of the business for the past few seasons. Its good to see.
There will be still some moaning about this.
It's all DC's fault. "What's he doing letting players off on a day when they should be training how to score goals!!! Arghhhhhh"
The UTS clique and mindhive approves of this post.


People moaning about people moaning, who haven't actually moaned

Yep nothing but positivity around this

As there should be
I love how the players actually look like they want to be there. They look genuinely interested.
Love this.