Last pre season friendly today being streamed live and free on Blues TV
Team: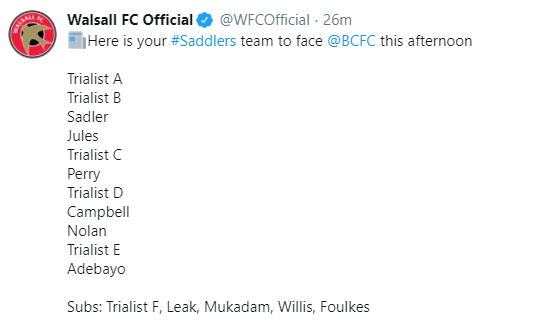 Willing to suggest that none of those starting today will start on Saturday
what not even trialist E (Messi) ?
Anyone fathomed out how to register for the stream? The BCFC site seems to want people to register for paid for games
Edit - found it via another page
I though he'd go the other way today and play a side that was likely to be the starting line up for Saturday.
Seemed a perfect fit. A good work out with good recovery time against a similarly ranked club two leagues above us.
seems to have swapped it around for the last game, previous friendlies Clarke's started with what looks like our strongest XI
anyone getting a feed yet?
I've just got the title screen
Me too. I saw that the IE is no longer supported so have switched to chrome, stlll no pictures.
Same here, just the title screen.
I know our game the other day was crap picture but at least we could see something lol
Apologies for the delay in starting our stream of today's match against Walsall. This is due to an issue at the Trillion Trophy Traning Centre
It's on. With commentary.
We're in yella.
we're on!
BCFC 0-3 Walsall
Whoever the keeper is he looks tiny.
Greg Halford number 5?
Good shout. Number 16 looks like Kiersey.
Have you had to subscribe and register to their site ?