27 quid for an adult

We must charge close to this?
£21 for an adult in the home end. I might be wrong but I assumed away fans would pay the same price.
Getting on for 30 quid a ticket in anything less the Championship is a robbery.
The EFL ticketing rules say that away fans can't be charged more than home fans for comparable/inferior accommodation.
Crewe charge £27 for their main stand on the other side of the pitch so I guess that's where they get that figure from for our tickets.
However, a) I'd say that the main stand is better accommodation than the stand they give us, b) that's the matchday price - only £23 if bought in advance (and the EFL rules imply that such discounts for home fans should be given to away fans too).
If that's the EFL ruling then I can't understand how they can justify those prices and how they're even allowed to charge them.
I'll tweet the SLO Andy. See if he's asked the question.
Ooohh, get you

Oh arr. I can spin the typewriter all the way round the telegraph pole.
Anyway - I've "tagged" him in on a tweet now. I'll snap him on instachat if he doesn't respond.
You really are down with the kids and have your 'finger on the nub of youth', to coin an old partridge phrase!!

Probably get a reply by pigeon sometime after the game has been played.
Did I say that? Ah well, I've got nothing against the bloke, but Walsall gallows humour will never die.
Not being funny but we are charging more to our own fans if they pay on the day in some stands anything over 20 quid is too much for me for league 2 football though
Do you mean you will "X" the SLO
This happened to me a couple of years ago and although I still didn't get an answer (just a reply), whilst he was next to useless, to be fair to him, it wasn't entirely his fault. The matter was concluded by me telling him to forget it as the match had passed.
Suggest you use the generic term "I'll message the SLO", otherwise people are going to come to their own conclusion as to what "X" means here.

Fair play. He's come back and confirmed that the £23 quoted is for their members and not an advanced price.
Hmm. Sounds like a con to fleece away fans.
And it's £27 for their stanchionless, high-raked, high-roofed stand, while the away side has restricted views due to stanchions and a low roof. No way are they comparable accommodation so they shouldn't be charging the same price even if they can get away with the "members only" discount.
BTW It was only £25 last season.
To be fair, we do the same by charging away fans more than the lower tier don't we? £27 is a ridiculous price though.
Yep, I made that point to Graham on X. Not his fault but hope he raises it with his counterparts when we play there. The other point I made was around facilities. The bogs and the kiosks distinctly second rate compared to the "comparable" stand.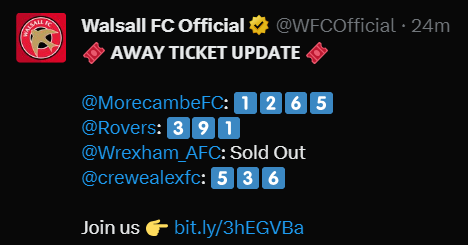 Crewe tickets selling well considering the price and still over 2 weeks away. Got my 4 yesterday.
Quite superb support and some really healthy travelling audiences. Can see Crewe going past four figures especially if we start well.