We head off to Greater Manchester this weekend as we face Rochdale at Spotland, or The Crown Oil Arena as it is officially now known.
The hosts find themselves 20th In League Two heading into the fixture, with a 7 point gap to the relegation places, with 6 games remaining. A win for them here would effectively see them safe.
Interestingly, Rochdale have lost 3 LESS games that us this season, but on the flip side they've also won 3 less, hence their position.
The manager of Rochdale is ex-Premier League defender Robbie Stockdale (Middlesbrough) who has been in charge since pre-season, and his squad contains two former Saddlers in the shape of Paul Downing and Eoghan O'Connell, who will both be hoping to feature this weekend.
The Dale's last six results have been: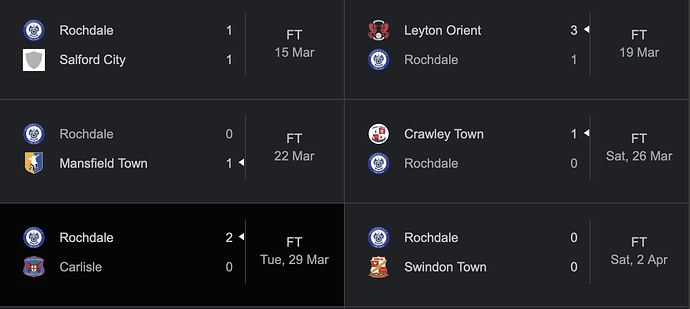 The Saddlers head into this game on the back of a horrendous performance against Leyton Orient last time out where it looked as if the players had already reached their beach holiday destinations. I have a feeling that with the mentality of some of the squad it might be more of the same for us this weekend, unless Michael Flynn makes changes and gives some of those hungry for a chance to impress a start.
No new injury news appears to have come out of the club so far this week, so as we know, Zak Mills is back in the first-team fold, and Reece Devine can't be much behind.
Going into this game, what team would you start with? I'm not sure what I'd do, but I like that Flynn has said that two or three of them are playing their way completely out of his plans. Maybe he will stick with the same team to allow these players to cement his view that he won't be keeping them?
Anyone going, credit to you. I thought about it, but for what Is nothing more than a glorified friendly for us now, coupled with our piss poor performance last time, I've decided to work instead. That's when you know it's bad!
Hope the chippy over the road is open before the game, well worth a visit and could possibly be the best part of your day.
Rochdale vs Walsall - Match Result
Rochdale Win
Draw
Walsall Win