Who did he think was good enough that isn't?
Most of them judging by his interviews.
I dont get that from him at all. Yeah he wanted more players, but I'm not sure there was a manager in the EFL that didn't.
But we have absolutely no idea who he was looking at or why. Chances are he needed a forward and a CB and that's not to replace anyone it's genuinely where we needed more bodies.
Maybe a left sided player? But I think he sees Monthe as someone who can cover there if he plays a back four.
Need to steady the ship tomorrow a draw would be great . A win would give management, players and supporters a huge lift .
And cause a huge rift in the time continuum!
Great content again Rob

This is the team I would play.
A solid base with willing runners feeding off scraps up top.
Knowles long throws could be a weapon and I expect a set piece goal from one of our centre halves.
I'd take a point but I'm hoping for a backs to the wall 1-0 victory to get the train back on track.
I don't think I've ever picked the same team as the actual eleven (since Dean Smith left!) but this would be my starting eleven with Williams and Maher to come on for the last 25…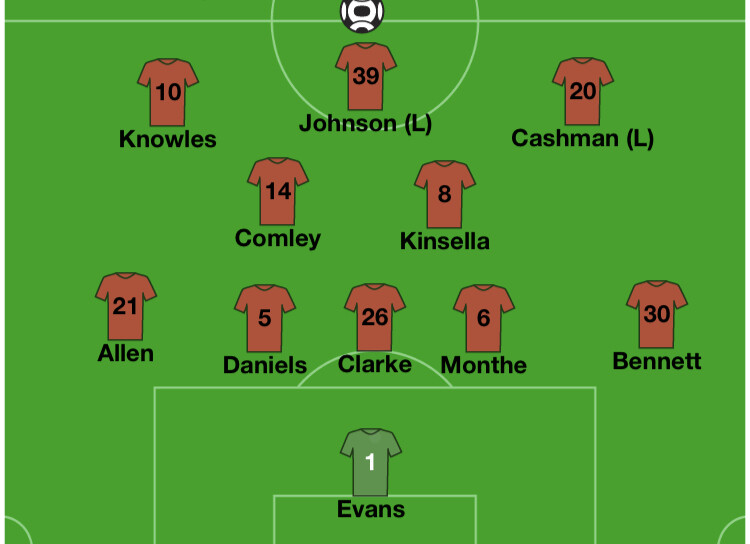 Same 11 as i would choose,pace kn wings with bennett and taylor allen to overlap and good centre backs
You'd both select Cashman? Based on how many views?
The aim will be to not to lose. I think you'll see one up front and I reckon at least 8 defensive players on the pitch maybe even 9.
I've always believed in three key elements to successful teams:
1.) Don't change a winning team
2.) Play form players (DJ).
3.) Winning builds momentum, confidence and continuity.
Cashman comes from a championship club and has joined a team low on confidence.
Play the same eleven, expect the same results…
Cashman has only ever played for their 23s

We haven't won since Swindon……play that team I say
I'd probably still go DJ & Williams just about. I'd be very tempted to throw Cashman in though as maybe it does just need freshening up.
Hope that signing gives Abraham a kick up the arse too. If he can't get into a side who'll probably be middle of the pack League Two then he's slowly but surely on his way out of the professional game.
I'd play Bennett in midfield, because he's box to box, competitive and creative.
Evans
Daniels Clarke Monthe
White Bennett Comley Allen
Knowles
Williams Johnson



Take away a white line on Bennett's right shoulder and a pitch side barrier in front of him and we'll have a problem on our hands.
Don't think I've seen us win here.
2-2, Johnson and Knowles
i would start Cashman on the bench maybe bring him on for half an hour and see how he looks if he does well possibly start him next week?
Whichever way he goes with team selection we can't sit back and allow wave after wave of attacks from Bradford.If we do we will be on a hiding to nothing, we have to be braver on the ball and we have to try and make them think twice about pressing our back line.I know they are league two players for a reason but if we can play through a press or two it makes their forwards think twice about pressing.Until we are braver and more comfortable playing through presses we will continue to hoof the ball forwards and that will continue to keep getting picked up by their defenders then they will just come at us again.