A youthful Walsall XI travel to Leamington this evening with Matt Sadler in charge…
Easy now, don't crash the servers…
Pre-season not as fun with no crowd - speculation over the identity of the trialists is the only thing of interest really and there is none.
takeing a goalkick in this wind will be er fun
Think the Leamington team might have had beans and a few pints of Banks's's's's's at dinner time
Pity we're not using Villa's goal-line technology, we might have got away with it.
we finnally get the Walsall teamsheet from Leamington: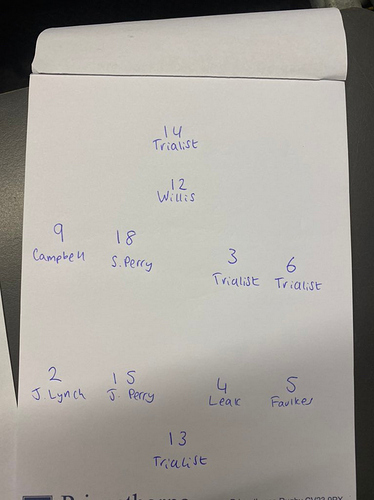 That player trialist is versatile he's playing in 4 positions!
Better it happens in a friendly than a propper game, let's face it it what are the odds of it happening again

Thats what you get when one player tries to play in 4 positions!!!
Worst team in the world. We're doomed. Clerk out.
I cant work out if that is a 1-4-4-1 or a
4-4-1-1 formation.
Boo, shocking result. Too much tinkering, I'm not going this season!
That Kiwi accent's getting a hold mind, lockdown…its bad for you.
I'm not sure if I'm getting whooshed here or not but I'll bite.


I think we have to assume the trialist at no 13 is the keeper. and 12 Willis is playing in the no 10 role behind the trialist striker No 14. Making it a 4-4-1-1.