Well that's where he left us
His other book was brilliant to be fair.
Yeah I enjoyed the other one, a decent read. Blew his pension in a month betting on all kinds of idiotic things!
He was on Five Live last week with Nihal - was interviewed for about an hour.
I will be honest and admit I haven't had a lot of time for him after his spell with us, but his openness and honesty during the interview was compelling. For example, he spoke about how he and his wife had saved up a deposit for a house only for him to go and blow it during lockdown gambling.
It seems incredible to think that this is a bloke who has earned a fair bit throughout his career and he is having to save a deposit, only to then let his demons get the better of him, think "If I win with this money, I will have enough to buy the house, let alone pay the deposit" only to lose it all.
I think the thing that struck me most of all was his vulnerability - couldn't help but feel for him.
And to be honest the more you look into his time at Walsall, you realise that A) the club were far more culpable than he was and B) he did actually genuinely care about the club.
At the end of the day a chairman, with dollar signs in his eyes, saw the opportunity to bring in a man with genuine name cache, probably a few more TV days than we are used too, and the potential to have a "star man" at the helm, offered a relatively desperate addict a pretty well paid job. Hardly going to say no was he. I've never disliked anyone who genuinely gave everything they had to offer to this football club (and did so, rather than talked about it ahem Mr Clarke ahem). Unfortunately in Merson's case that didn't seem to be very much at all.
Many a time I have reflected upon the fact that we let a man who couldn't manage himself, manage a football team - listening to him last week re-emphasised it.
I suppose the one thing could possibly say in Bonser's defence (have I really just typed that!!) is that people with addictions can often tell a good tale to cover up the reality.
Makes you wonder. For all his faults,Bonser had a pretty good record of hiring and firing prior to Merson. I'd leave Money out, because he was already on his radar before Merson. But ,post-Money his record was abominable. He only turned to Smith when he ran out of other options.
I've always thought that he just lost interest after Merson. But maybe he came to see that as such a bad decision, he also lost confidence.
Merson is quite clear in the chapter that it was Bonser who helped him go to rehab (whilst still a player) and then appointed Merson as manager, fully aware of his problems (seemingly to the bewilderment of Merson).
Also a slightly confusing anecdote regarding his sacking, where Merson seems to be under the impression that he was sacked because Scunthorpe fans would cause a riot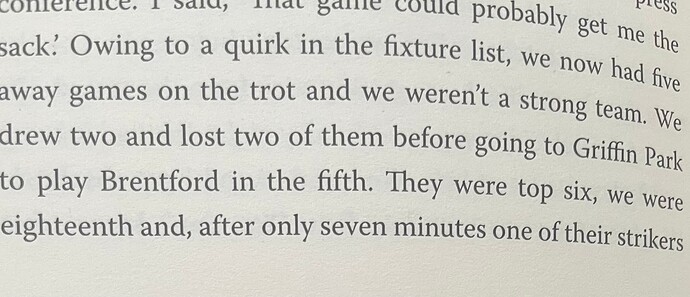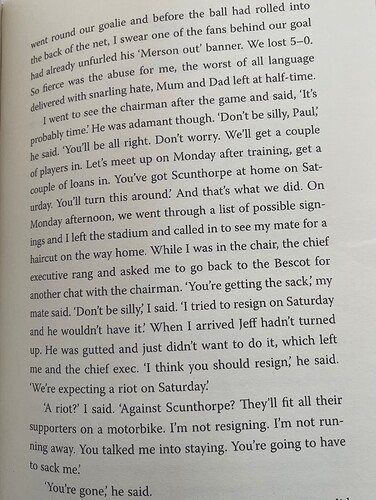 No. I don't think he was saying that. I think ,knowing he was sacked, and that Bonser had avoided the meeting, he realised he was in a corner, and was making a desperate joke.
It increasingly seems to me that this confirms what we already knew. That Bonser took the unilateral decision to appoint him, but when the inevitable decision came to sack him, he was nowhere. I've never thought of Bonser as having much of a conscience, but maybe this weighed on the the rudimentary one he had.
Turns out he was a bottle job as well. He clearly said that to Merson about staying on because he didn't want to do the job himself, hence being absent when he was actually sacked.
Certainly looks like it. But up till then , he wasn't too afraid of making difficult decisions. I can remember a Racing Post writer giving Walsall a mythical John Rudge Award For Ruthless Ingratitude- after he sacked Graydon.
It's more likely Bonser wanted to genuinely keep him on and was only persuaded by Whalley when it was pointed out it wouldn't just be Merson the fans would kick off at if things went pear shaped.
I think it's just a general Bonser thing that he reacts when things might be about to point his way and any decision is just a deflection to put the flak somewhere else.
The Anthony Gerrard interviews on the Undr the Cosh podcast are quite good and provided some insight on Merson's reign. Wouldn't mind giving Merson's new book a scan - thought his first was a good read.
Good article in todays Guardian:
As someone who also has a gambling addiction and recently took the decision to ask Stepchange for help, I really do sympathise with Paul, his wife and family.
Mersons last season as manager was lowest point for me following Walsall. It was by far the most amateur we have ever been.
He should never ever have been appointed manager.
Not his fault Bonser dropped a bollock.