It's on 133,352 now. Fantastic, great to see Walsall back it and even Manchester United.
Lets hope this works, if non league clubs hadn't put pressure on then they still wouldn't have fans at games.
800 signatures so far across the 3 constituencies of Walsall South, North and Aldridge-Brownhills.
It needs to go much higher than this to put real pressure on…I would suggest 1 million petitioners would be a realistic target!!
I dunno, non league didn't have a petition signed by millions. All it took were all of the clubs coming together which they seem to be doing here, and a handful of MP's.
258 at the moment in Telford, and 260 in The Wrekin. Hopefully it will go higher.
Interesting map showing distribution of petitioners so far.
It seems Londoners care less than the Midlands and North.!!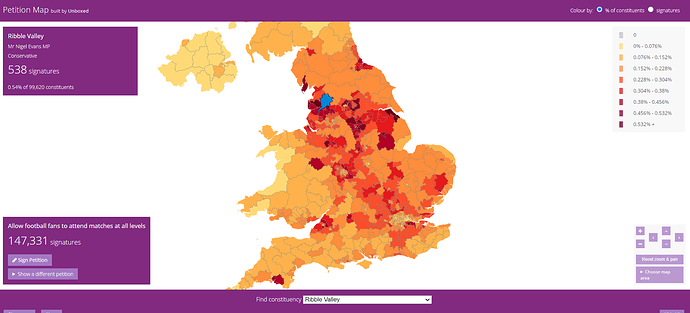 With the government announcing help for the National League, it's gone very quiet about the Premier League assisting the upper leagues.
According to Talksport yesterday the talks have stalled basically because some of the Premier clubs are questioning why they should bail out Championship clubs when some of the Championship clubs have richer owners than some of the Premier clubs , they probably have a point .in which case they should be looking at leagues 1, 2 and the National leagues where the problems are much more acute .
Logic would therefore suggest have some sort of sliding scale of bail out…perhaps based on something like turnover…so poorer clubs get more than rich clubs.
But this is the Premier League and football…logic tends to go out of the window!
Yes absolutely , but you can bet that whatever we get it's not going to be " free money " , however needs must
The current restrictions as they relate to football versus other sectors in hospitality and leisure make absolutely no sense at all.
I think it talks to a wider stigmatisation of football fans in that there is a sense that we aren't to be trusted.
We have one of the highest turnovers in League 2.
I wouldn't be too happy with "logic" that meant Salford got a bigger bailout than us.