I've got the programme from that match too, but I am struggling to recall our named goalkeeper Roger Cunningham.
Can anyone remind me about him please?
I think I've got programmes for all but the first 2 games up in the loft (amongst many boxes full!) Unfortunately I missed the Peter Hart last-game-at-Fellows-Park game as I was in hospital and they wouldn't let me sign myself out to go - but my dad and brother went (and got the programme for me).
Having had a Google, I've found this site - http://abfootballprogrammes.com/testimonials.htm
Anyone remember us going to Chelmsford or Harrisons? And who the hell was Bob Davies for that game against Villa in 1978?
(Found an image of the programme …)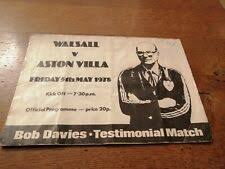 It was the infamous 1975 European Cup Final, for which the testimonial was used by Leeds as a warm-up. 'Infamous' in that Dirty Leeds were robbed. It was quite an achievement for the referee (making decision after suspect decision), to leave the majority of English fans feeling aggrieved for the 'Dirty'!
Pretty sure you're correct.
I don't recall him either. Milk Churns didn't miss many games, one time he was out for a spell, we signed Graham Moseley on loan for a few games.
The reserve keeper I remember from the mid 70s, who never played AFAIK, was Vince O Keefe, who did go on to play for other clubs, Blackburn and Wrexham among them I think.
Roger Cunningham though, I'm drawing a blank.
Bob Davies was WFC's first full time physio and sponge man since Ray Shaw. Spent 40 years at Nottm Forest as a player then coach and physio. Lost his job following Allan Brown taking over at the City Ground and snapped up by WFC. Ill heath forced him to retire at 64.
Stands testimonial was a few days before Nick Attheys against Wolves we lost 3-2 with Terry Spinner scoring ours.
Roger Cunningham I remember the name never played in a competitive game for us .
I thought I'd give this a bump, see if any of you can enlighten me as to why Kenny had a testimonial match after a couple of seasons with us.
He had a testimonial at Wolves in '82. No idea about the 1992 match. Suspect it was a second bite of the cherry from Wolves as they were the opponents and it was a pre-season friendly. Match was sponsored so ticket income to Bonser was covered.
Cheers. I suppose if he had one at Wolves in 1982, that was when they were beginning to disappear up their own backsides, and he perhaps got a low crowd, less than he deserved for his excellent career there, so maybe that was something to do with it.
But, hey, as long as Bonser didn't lose out, that's all that matters.