Both sides will be happy with a draw so they get a trip to the Banks's and the replay gets shown on Telly.
You should donate your brain to science
Are you VPNing? If I connect as normal (UK) I can buy an audio match password, but if I VPN as non-UK it looks like your screenshot and the option isn't available.
Don't you have to be dead to do that? (straightman mode)
I just have an audio annual subscription and pay extra for the games that are shown on an individual basis. I know you once kindly tried to explain VPN before but as someone who is struggling with the idea of changing my mobile provider it's all beyond me.
Just hope it turns out it is possible to listen,
From the EFL website iFollow page:
Please note: Papa John's Trophy matches are now available on iFollow (excluding those selected for broadcast). No Carabao Cup or The FA Cup matches will be available to watch on the service.

So it loooks like you will get the audio commentary. However if I look at the club pages using my VPN I get this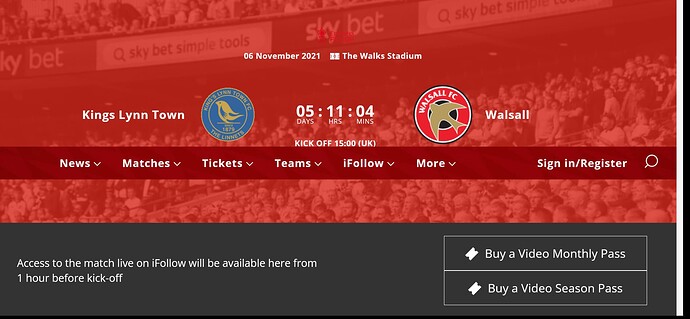 but I think thats just our club being lazy and just using their regular page instead of updating it for the FA cup.
That decimalisation was a bastard as well


Too young to know about that stuff

Back in the day when "mobile phone" meant having an extra long extension lead to the handset so you could take it into another room for a bit of privacy.

I wonder if our 5 loanees will be allowed to play, or will their parent clubs insist on them not being cup-tied. Could be interesting because if Wilkinson is still injured then we won't have a recognised forward available!!! Could be very interesting.
Maybe thats why Wilko didnt get into the squad on Saturday as we will be short on numbers due to the to parent club/cuptied issue
Can see us starting with Shaka Kahn and Wilko up front
Don't you mean starting with Shaka Kahn Shaka Kahn Shaka Kahn

What a sad reply, I feel for you
I am buzzing for this.
Cue the 1-0 defeat.
Apologies if it's already been mentioned but when do we find out if our loan players will be able to play on Saturday or is it the club already know and are keeping it a secret

I would imagine the club knew some time ago, or else it would make tactics and training this week a lottery. As for making it public I suppose we want to keep Kings Lynn guessing until as late as possible.
The disappointing part of all this is that regardless of who's in or out of the side, it will not improve/change if we make Round 2.
So if say 3 of the 5 loanees are refused permission to play, we could be left massively weakened in all departments of the team, particularly if Wilkinson is still out!
The club will have known the day the players signed. Either they're eligible for cup games (which they've all already played in bar Miller) or they are not. I don't think parent clubs can pick and choose which ones.
If Phillips and Miller aren't allowed to play and Wilkinson is injured who do we play uptop?