Evening everyone, hope you are enjoying the summer and the Olympics action after the emotional ups and downs of Euro 2020! Well, there is no rest for the wicked, as they say, so just as you were catching your breath, here is the the League 2 prediction competition for the new season ahead!
Make sure you do your homework each week, analyse the form, listen to manager's interviews and keep your ear to the ground on the latest transfer or injury rumours before submitting your predictions…or simply copy someone's predictions at 2.55pm on a Saturday afternoon!!! Many of you are seasoned veterans of the prediction league now, some of you may be complete newbies to this, but everyone is welcome to take part, one and all!
For those who haven't played before, here is the basic jist of it. The prediction league is basically a little bit of football match prediction fun for our wonderful league 2 that the super Saddlers currently reside in. Simply:
Choose 3 games from the list of League 2 fixtures for each game week that is published on here.
Predict their scorelines (it can be a home win, away win or draw - however you see the game going)
Make sure you get your predictions in before the kick off times of the games (always stated on the thread) otherwise the predictions are null and void.
You get 1 point for a correct result or 2 points for the correct scoreline (e.g. you predict Walsall 7v0 Port Vale, the result is 7v0 = you get 2 points, the result is actually only 5v0 = you get 1 point)
After each week, a league table is updated to show predictors' positions as well as any movement up and down.
The winner is the predictor who finishes top after all game weeks are done.
Prediction weeks include both weekend and midweek fixtures, although there has to be at least a half set of games (so 6 matches being played) to count as a game week.
Any games that are postponed after you have predicted them can be changed for ones that are still taking place but if you keep the postponed game as one of your 3 picks it will still count - I will keep a note of them and when the rescheduled games take place and award any points that are due as and when.
If you don't predict for 5 weeks in a row, I will assume you have bailed (like a spineless DC!) and I will remove you from the league table.
Hopefully that should all be pretty straightforward! Below is a reminder of how things finished at the end of last season with Exile out worthy champion: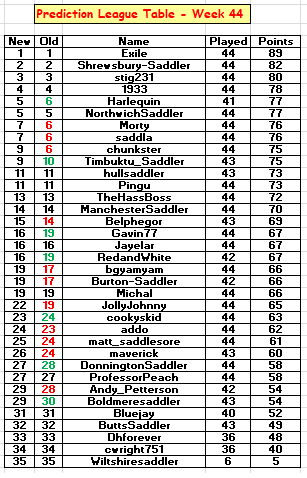 The first set of fixtures will be posted shortly. Good luck to everyone and may the best predictor win!!