The Saddlers head up to the North West of the country this weekend to Barrow, a place I've been reliably informed is like heading back into the 1970's*, to take on Barrow A.F.C. at their home, Holker Street.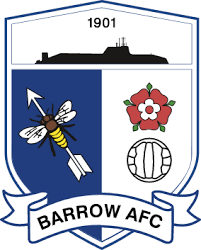 The hosts find themselves precariously close to the League Two relegation zone, currently sitting 22nd in the table, just 1 point over the recently improved Oldham Athletic, so it is very much squeaky-bum time in this area of the country. It is also one of the few times this season that we can say we are playing a team below us in the table!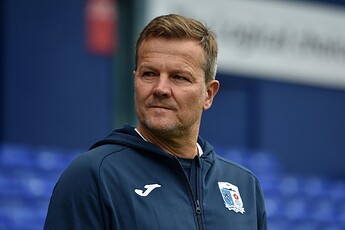 The Bluebirds are managed by Mark Cooper, a manager a few people on this board mooted for the hotseat here in recent times, who is actually going to be serving the 2nd of an EIGHT GAME BAN issued to him after being "deemed to have committed an aggravated breach of FA rules relating to abusive and insulting words referencing gender." The incident occurred when Barrow faced Exeter City in August, with Cooper exclaiming "'you just need to realise that it's a man's game" in an exchange with assistant referee Helen Edwards. Cooper was dismissed and the comments were reported to the FA by match referee Andrew Kitchen.
Threats from the hosts playing squad come from John Rooney (he has a famous brother

), Leeds loanee Robbie Gotts, and ex-Saddler, Josh Gordon who has 5 goals in the league so far this season.
Heading into this tie, the form of our hosts isn't great, with just one victory over their past six games, which have been:
1st Feb - Northampton Town (A) - Won 1-0
5th Feb - Tranmere Rovers (H) - Drew 1-1
8th Feb - Hartlepool United (A) - Lost 3-1
12th Feb - Stevenage (H) - Drew 0-0
26th Feb - Harrogate Town (H) - Drew 0-0
1st March - Bristol Rovers (A) - Lost 1-0
Moving on to The Saddlers and we head into this game with 10 points taken from the last 15 available, with a very encouraging second half performance from Tuesday's game vs. Northampton Town to build on.
Michael Flynn appears to have instilled some order into the squad and is getting more out of most of the players than we've seen all season, which is a positive in terms of getting a strong finish to this season and starting to focus on what we might be able to do next season. Players appear to be playing for him, they appear to have created a few set-piece routines, and we've even got players playing in unfamiliar positions and looking half-decent!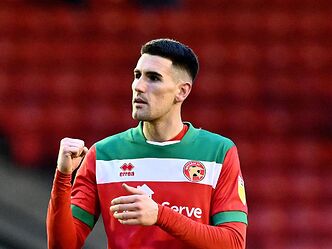 Team news heading into this game hasn't really been discussed in the media at this point, but we know that again, Reece Devine, Zak Mills & Rory Holden all miss out through injury. Conor Wilkinson is in good form with two goals in his last two games, but he came off on Tuesday and went straight for an ice pack, so potentially could be a doubt to start the game.
Devante Rodney and Lee Tomlin have both made impressive cameos in our past couple of fixtures, so could one or both of those be pushing for a first Saddlers start? I'd think Rodney will be the most likely if changes were to be made.
What team do you think will start? Should Flynn keep it the same as Tuesday night if those players are all available for selection?
Which of our UTS Saddlers are heading up? This is one I've been dying to do all season, but work calls for me so hopefully I get the chance next year (pending Barrow staying up!).
Get your predictions in, and for those of you going, enjoy the game!
*I've never been so can't comment really

Barrow vs Walsall - Match Result
Barrow Win
Draw
Walsall Win