A trip to relegation threatened Hartlepool United awaits The Saddlers this Saturday, as we look to finally get three points again, having not succeeded in that since New Year's Day!
The Monkey Hangers were managed by ex-Dingle, Keith Curle until yesterday when he was sacked, and they have already moved to replace him with John Askey, formerly manager of York City dropping into the hot-seat with the target being very much avoiding relegation back into The National League.
Sitting 22nd in League Two, the hosts are perilously close to the drop zone with just 27 points this season. Crawley Town below them have 26 points, but Pools have played THREE games more. Squeaky-bum time coming up for them.
In the Poolies squad is 90-year old (actually 38) Leon Clarke who has just signed until the end of the season. He's made 2 appearances with 0 goals scored so far. There are three names in their squad that will stick out to our own supporters. mainly because they are all recent Saddlers.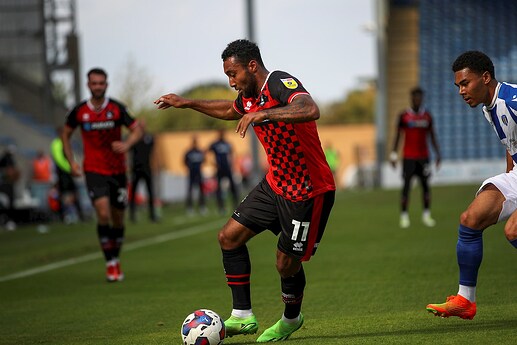 Rollin Menayese is on loan from us, but is out for the rest of the season with injury. Wes McDonald has seemingly found out that this is his level, and now plys his trade here. Finally, Brendan Kiernan moved from WS1 in January and has yet to register a goal or an assist in his first 4 appearances.
Hartlepool United's recent fixtures have provided the following results: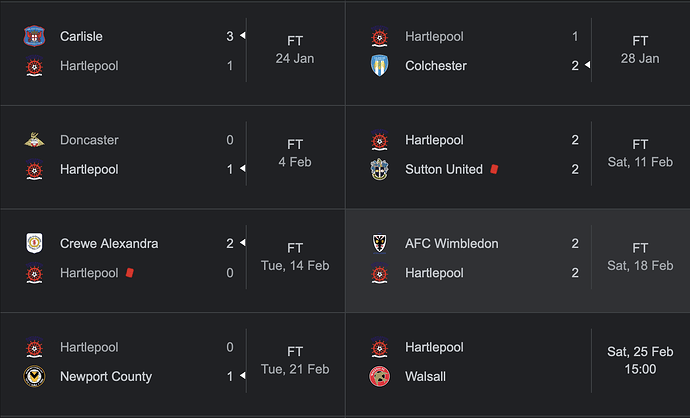 Moving onto The Saddlers now and we enter this fixture winless in 7 league fixtures, with 5 draws in our last 5 outings. It is clear that the January Transfer window has affected us, but how much longer can it take before things start to click again?
Michael Flynn has come out this week and said that we need to keep believing that we can make the play-offs, whilst Robbie Willmott has been quoted as saying he is sure things will pick back up for us soon. I hope for all of our sakes that this is true!
Heading into this game, there appears to be no new injury news, other than Jamille Matt potentially having a slight shoulder injury, which was the reason he came off in midweek. Joe Riley appears to have recovered from his mystery injury and is in contention for a first start in a Saddlers shirt, perhaps. Liam Kinsella may be back fit for this game, which would give a boost to the team if so.
How would you line up for this game? Who deserves to keep their spot, and who should be dropped? I don't even know what to suggest any more, I'm not sure what the winning formula is. That said, I do hope that Taylor Allen is in the starting XI again, as I feel he did well enough against Crewe last time out.
At the time of writing, we have sold over 250 tickets for this game, so fair play if you are one of those already committed to going, especially with recent results and a lack of goals. How many off here are already committed to being there?
How do you see this game going? It's going to be interesting to see if our hosts get that new manager bounce and if they do, if we can overcome it.
Keep believing - Michael Flynn said so.
Up The Mighty Poundland Soccer Reds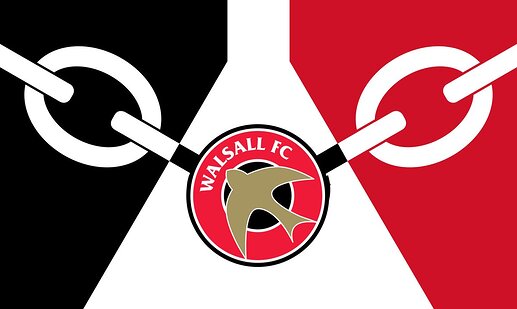 Hartlepool United vs Walsall - Match Result
Hartlepool United Win
Draw
Walsall Win