No, but despite what we all want I don't think the powers that be want a target man
Are you saying whatever the outcome we're short staffed?
I reckon I'm on the money with my identification process. Giving myself a musical clap.
Dunno about the baldy though. Gonna set the warriors on him.
Baldy is a mystery

I have tried to enhance the crap picture as best I can with some software I have and if I squint it looks like Josh Parker without a beard or equally the bloke behind the counter at the Texaco garage in Hednesford
Hopefully we might find out in 30 minutes but dont hold your breath, maybe they want to surprise Cloughie
UTS
I know which one is more realistic for WFC
Holden at the ground on crutches out for ten weeks he was saying
So those rumours about a signing in time for today's game, were bollocks as usual
I heard him say… I reckon I was stood next to you!
Maybe a look at the trialists tonight?
Ye Lucha Libra style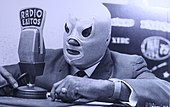 Are they allowed to play tonight then?
No, they wouldn't have been.
I guess until you are actually registered with a club, you can't play a competitive game for them.
I thought so due to registration and insurance etc. But that comment made me wonder if I'd missed a rule somewhere. Thanks for clearing it up

Noticed that Olly Lancashire is playing for Southampton tonight, he's registered as a mentor for Southampton's academy

Wonder if any of those trialists are actually going to be signed?
There's been trials at the old Bailey that have not gone on as long as this.