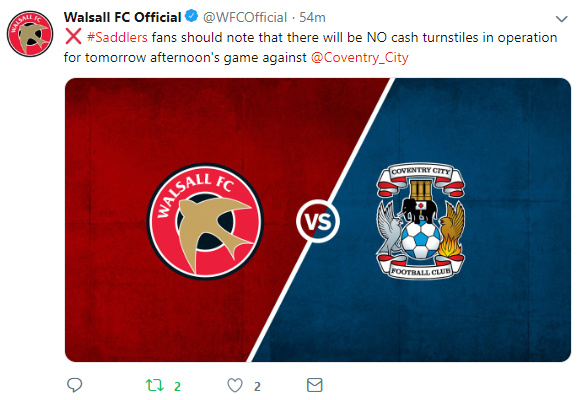 u
Does this rather scupper my chances of seeing the game tomorrow???

should put a few more stragglers off

I'd imagine buying a ticket online or over the phone and then collecting it at least a couple of hours before kick-off is the best approach.
Brilliant timing from Walsall FC, now I need to faff about getting a ticket.


Can't buy on-line if you haven't got a previous booking history, this bombshell dropped after the ticket office closed today.
Wow.

Sell out the away allocation and immediately make it ticket only for home fans. Less than 24 hours before the game. Genius.
Another one for the ever increasing PT scrapbook of club making it incredibly difficult for home fans to attend one of the more exciting games of the season.
Was it like this in the cup tie a few weeks back? Been playing Cov regularly for last 6 years now and don't remember this restriction being put in place before.
Matt - I've just ordered a ticket on-line … do you want me to go back into the website and order one for you? It's in Homeserve lower (Tile choice must be sold out)
Indeed, pure genius, they ought to run a business, Oh god they do! So they must be specialists in organisations that want to go out 'out of business'!
You couldn't make it up.
Pure comedy gold.
Well done Walsall F.C. and all that sail in her.
I'd say the primary advantage of being a ST holder is not having to deal with this kind of rigmarole. That said, the organisation of the Lower Tier turnstiles can be ridiculous whether or not you have a ticket…
That would be a solution, and we meet before the game? Are you going to the pub, or is at the ground better?
I'm aiming to be at the pub for noon … I hope the ticket(s) will be available for collection at the ground when we get there.
I'd be wary of this, there will be queues…
OK, brilliant - let's do it. Cold hard cash waiting for when we meet!


Well played Walsall, well played.

What a cluster-mishap!
Oh, and there is zero guarantee that there will be one booth open for purchases and another for collections.
You're right. Does my swede right in.
I'm not sure there is any venue for any form of sport or entertainment that is so sparsely populated and yet so paranoid about some of the people who do attend being near some of the other people who attend.
2 tickets now purchased - I think what I'll do is call at the ground on my way to the pub, to avoid any longer queues later. Give me a bit of leeway regarding the pub meeting time!!!

It's reported that Coventry City have sold out their allocation of 2,250 seats.