2 more years of Hayden white!
Good. One of the few who tried last season.
Released shay facey a year ago and Norman this year but we kept white

why???
Thought he showed glimpses of promise last year, with better coaching probably was worth keeping, Taylor seems happy with keeping him in the website quotes and probably not too expensive. Squad building up quite nicely
Surprised at the length of the contract but otherwise happy that he's signed on - thought he was decent.
I think he improved towards the end of the season and may well do well in the new set up. We will certainly be a physically strong team.
Think he is a decent cover for centre back as well as he played quite well there when needed last season.
O.k squad player, don't expect him to be first choice when all signings are done but he can cover most of the positions at the back.
Does a job at this level, improved the more minutes he got. Expect he will cover a few positions over the seaosn.
5th signing now that's 6ft or over. We will be a big unit on the pitch.
Average league 2 level player. Suppose you need a few like that.
I don't get the hate towards him to be honest.
Showed in the second half of the season that he's a decent defender at this level and can play fullback and centre half, which is great for versatility.
Got to remember that he didn't have a pre season last season and had barely played in the season before last due to breaking his leg.
I don't think Hayden White was that bad tbh. No pre season, long term leg break, terrible standard of team mate etc
He's poor on a football, no other word for it and was part of one of the worst Walsall sides of all time. Probably has something to do with it.
Slightly more impressed with him at centre half than a full back because he's way too immobile for that.
He might be used as back up from the bench covers CB/RB roles.
The boss seems happy with the signing, so will leave it at that
I think there is a player at this level in there and is versatile
In LP & the Three Amigos we must trust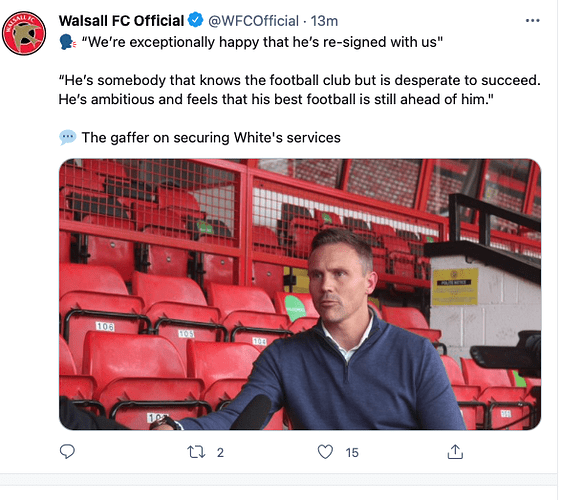 The good thing about this signing is that the player wanted to be convinced about the club's ambition before he agreed to stay. That says all I want to hear to be honest, as it will attract other targets to commit to the football club. This could get very exciting, if the budget can stand the strain!
Because he is better at his job?