Yes it is, oh sorry you were talking about the Irish league weren't you!
Priority for me is RB. Riley doesn't even look comfortable jogging and Foulkes is not at the quality needed. I believe we'll also get a lot more out of Knowles when he doesn't have to shoulder the entirety of our right-hand side going forward.
Although if Draper and DJ leave, then we'll be in big trouble. Looking for a striker in January is going to be difficult.
Haven't we got one sitting on the bench? Oops yes we have, but Sadler prefers DJT the goal machine.
I DO think we will lose both DJ and Draper come January, doesn't bode well for the rest of our dead rubber season if that IS the case.
What is happening to our club, why must we always be the also ran's, will we ever eradicate this losing mentality from our beloved club? This constant "it'll be ok to finish 17th, next season will be better" mantra is becoming a bore for most of us.
St Pats won the cup or whatever the equivalent is, maybe we could raid them for some decent winning mentality players






Think we need a rwb ,experienced midfielder and someone who can take a decent set piece.Our corners and free kicks are appalling
Don't forget penalties too, our last penalty taker wasn't very good at them either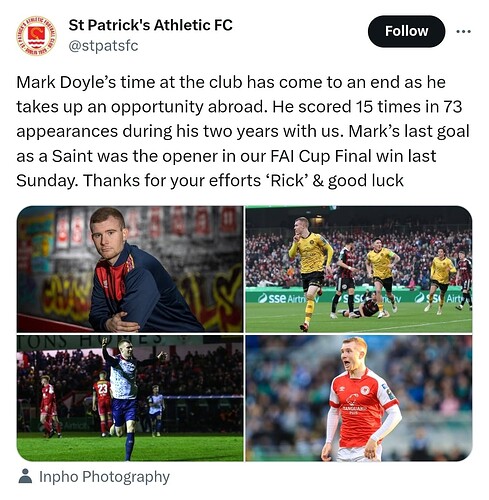 Maybe one for us?
Winger, can play on either side, 24 years of age, 59 goals in 180 games for St Pats/Drogheda
Unless we're going to change formation Sadler doesn't suffer wingers gladly.
Could we sign him outside the transfer window or would we have to wait till January?
Can agree a deal now, but won't be able to sign/play until 1st January
Taelor O'Kane of AFC Fylde. Great prospect.
Oh January, where our record on & off the pitch has been so good for so many years.
Don't be surprised if we get more permanent signings than points.