Our 46th and final game of the 2021/22 League Two season sees us host Swindon Town in what will be the last ever game at The Banks's Stadium before it's renaming for 2022/23 and beyond.
The visitors are turning up in their numbers for this game, with circa. 3,500 Robins expected to make the trip, with all of them hoping they can cement their place in the League Two Playoffs with a positive result here.
Swindon Town are 7th In League Two, finding themselves in the last play-off spot with a 1-point gap to Sutton United in 8th , and a 2-point gap to Tranmere Rovers in 9th place, both teams that could leapfrog Swindon depending on results in all three games.
Managed by ex-Bristol Rovers manager Ben Garner, the club have defied expectations that many held for them this season as before the season had even started they were in disarray. Managerial appointments that didn't last, a club seemingly headed for the National League with next to no contracted players, and a distinct lack of a proper pre-season in comparison to other clubs, but they've turned it all around and are now fully focussed on trying to get back into League One, all thanks to the help of the guy who took over control of the club this season, Clemente Morfuni.
Swindon arrive here having won their last 3 games in a row, with their previous 7 fixtures having been: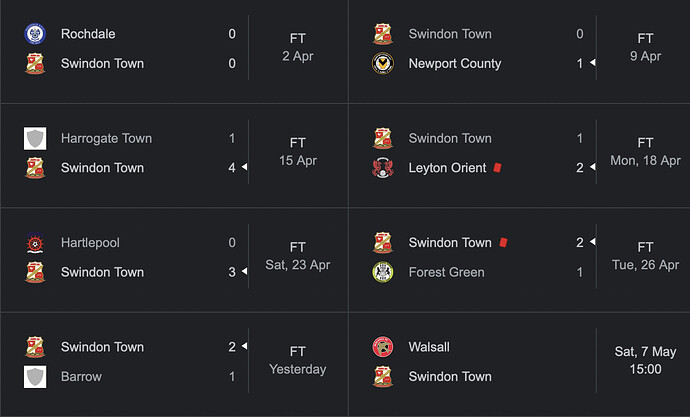 Moving onto The Saddlers and it's been a very disappointing season to say the least. We haven't troubled the play-off positions at all, at any point throughout the season, in fact spending more time looking over our shoulders at the drop zone than anything else. A season of promise turned into a season of despair fairly quickly, with a few golden nuggets (but not many) along the way.
Michael Flynn will be glad to get to the end of this season (as will a lot of the supporters) and be able to really start to put his own stamp on things with his own signings and his own philosophy being imprinted on the club. It's sure to be yet another busy off-season at the club, but for a change I actually trust the manager to get it right!
Heading into this game we sit 15th in League Two, with the lowest we can finishing being 19th, whilst we could hit the heady heights of 14th if results go the right way.
We have absolutely nothing to play for really, but it would be nice to compete and perhaps spoil the party for the visitors. A bit sad that it's all we have to hang on, but at least it gives the game a bit of an edge I suppose.
Team news for this one as far as we're aware is that Liam Kinsella is in contention for a starting spot after his comeback from injury against Colchester whilst Rory Holden, Conor Wilkinson and Joss Labadie all miss out in the ACL club. We may see youngster Jack Shaw make his home debut from the bench after coming on in the dying seconds for his club debut against Col U.
Being the last game of the season, it could be the last time we see a number of players, including loanees Carl Rushworth and Tyrese Shade who I will be sad to see. Maybe we can get one more season out of both.
Last but not least a big congratulations to Player of the Season, Liam Kinsella and Young Player of the Season, Carl Rushworth, both of who will be presented with their awards prior to kick off on the pitch.
A big attendance is expected for this, how many UTS'ers will be there? What are your expectations for the game?
The season comes to a close after this, so thanks for reading throughout the season, thanks for getting involved in the match discussions, and thanks for sticking with it all season. We got there.
One final question for you to answer - What are you most grateful for / what is your takeaway memory from the 2021/22 season (other than getting to the end of it)?
See you soon for 2022/23
Do zobaczenia wkrótce
До зустрічі
Welwn ni chi cyn bo hir
Te veo pronto
A presto
À bientôt
Walsall vs Swindon Town - Match Result
Walsall Win
Draw
Swindon Town Win