Probably a not-so Good Friday ahead.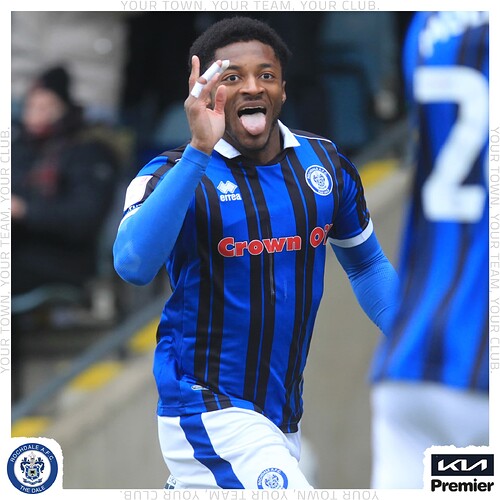 Rochdale vs Walsall - Match Result
Rochdale Win
Draw
Walsall Win
The shackles will be off for this one.
I bet he's done some research on the Rochdale keeper.
Richard O'Donnell, no less. So we can reply on him keeping a clean sheet while "Dave" gets their winner!!
The curse of ex-Saddlers goes on…
Yes a 1-0 defeat to the bottom club is likely.
Was going but it's a ball ache on the train, and after the last couple of performances, I can't be arsed so I'll watch on ifollow instead at the boozer.
Going to get my tickets for Crewe and Arrygut today though.
A 1-1 draw. Joe Low to score followed by an exchange of V flicking with the fans
When the fixtures came out it was one of the standout away days for me.
I just can't justify how much money it will cost to more than likely make me miserable.
I hate feeling like this but that's the way it is at the moment.
Thanks for letting us look in your crystal balls, dont think will bother going and as the weather looks good might as well stay at home and cut the lawn and stop her indoors moaning.
Or better still take her to the match and re-define her moan basis, plus in future if she moans about you going, just offer to take her and she'll have your butties and cans in a carry-bag before you can say four centre halves and Comsella-tastic.
I'm predicting a truly rank defeat by our beach towel brigade against a team probably forlornly, fighting for their lives. 2 or 3 nil
The Crown Oil arena is always a tough place to go and with Rochdale fighting for their very survival we shouldn't be judging this game on their league position alone where we have comfortably outperformed them.
Arguably the best away performances in the league were vs Swindon and Doncaster.
The team on both occasions was:
Evans
White Daniels Monthe
Bennett Kinsella Earing Gordon
Hutchinson
Knowles DJ
As 8 of the 11 are available to play, why not stick with a tried and trusted formation and just replace Bennett, Earing and DJ.
I know that Riley, Comley and Matt possibly aren't as good, but surely a better option than Monthe at Left back, McEntee at RB, and Wilkinson somewhere up front.
Give Matt and Knowles time to develop a partnership.
Stick with the best back 3 (White Daniels Monthe).
I believe that the extensive research done by Flynn for the benefit of the players this week, involves instructions not to work their goalkeeper too hard, as we don't want to warm him up as he feels the cold, demonstrated by his permanent wearing of gloves whatever the weather. It's attention to detail like this that gives us the edge when it comes to those fine margins.
It's forecast sunny in Rochdale on Friday.
Maybe the plan is to play long ball and try aimless Tom Knowles throw ins into the box and blind the goalkeeper with sunlight?
Knowles has played everywhere but cb
May Aswell give it a go as Flynn plays anyone anywhere anyway
I doubt it will be pretty, but reckon we'll win this one.
Thank goodness we're not going to Spotland which I believe is much tougher!