Be a strategic manager … keep the club on the front foot from a messaging and narrative standpoint.
Got to be a good thing.
Prepare for a 4 week interview process… to give the job to Heslop.

Looks like they finally want to bring us up to date and shows they think there should be more from online and communicating too.
Despite then not communicating all summer so far

That's because they don't have anyone in the post so far.
So no posts go out on the socials ? How did BBs letter go out ?
So what do these people do?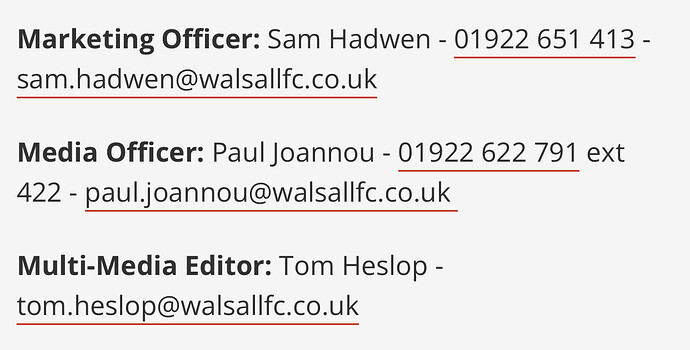 The job description does say it'll be overseeing a team of 2-3 people. So maybe a manager over these?
They obviously don't think these people are doing well enough to be responsible for their own output. That's why they are appointing a manager.
They should be sacked then.
The advert says;
This person must also share our values of:
I think they mean the values of "that'll do, leave it, that's good enough."
'Relentlessly resourceful' = 'Work within a tight budget'.
They probably need a manager to guide them.
Never mind marketing and fan experience, I want to know when the head coach and the 2nd first team coach are going to be appointed?

Wonder if @funk_hits_the_fan could be tempted to take this position…
PS that was a serious comment by the way.
Wow 4 wages to do that !!. Whats Whittakers job then?. Meanwhile we wont pay for DJ . This us why we make a profit of 10k on a turnover of 6 million quid. Absolute bs.
I like this
It is needed
Someone to push our poor video and social media team
I like how the pay is competitive
It's needed urgently when you read this 'marketing' blurb:
'All Members will receive a welcome pack with exclusive merchandise and a Membership Card. Season Ticket holders will also receive their Season Ticket card alongside the aforementioned welcome pack and Membership Card…'
'Aforementioned'? Who wrote that, the club solicitor?
You're back with your personal grudge. You do realise and understand that "Whittaker" doesn't have a "job"?,He's the SLO which means, in practice to date, he acts as a gobetween between fans and the club, bringing issues to their attention. Absolutely nothing to do with media and marketing and I'm sure he'd be the first to say he is no expert in those areas.
Well done to the club again. This seems like a significant investment in an area that is very important and where there has been weakness. Many fans have called for this…here it is. The proof of the pudding, as they say…
Excellent post Shrops. As you rightly pointed out Graham doesn't have a paid 'job' its all done on a voluntary basis. He is a go between for the fans to communicate with the club. He passes on complaints / requests to the appropriate departments within the club. This is a forward thing idea from Walsall FC. Marketing and fans experience are both important areas. Good luck to the person who is the successful applicant for this important task ahead.