. Yes he has done extremely well to be fair . A very good final third of the season to avoid embarrassment

Thanks @JollyJohnny for organising the prediction league - no mean feat especially the past couple of seasons with all the postponed games.
Very close all season and if @stig231 hadn't missed a round the outcome may have been different.
Looking forward to defending the title next season.
Only to the dustbin of history for this season!
Congratulations @1933 and thanks to @JollyJohnny. Not covered myself with glory (again)
Well Done @1933 for the win, and on joining the multiple seasons winners club



Big thanks as ever to @JollyJohnny.
The first seven are …
1 Jeffs Mate
2 Atomic Rooster
3 Stig231 / Whitti Steve shared
4 Stig231
5 HK Saddler
6 Saigon
7 Welsh
And most recent in reverse order …
1933
Exile
Belphegor
Saigon
JJ
JJ
Saigon
Old Penk
Saddla
1933
17 seasons
Well done @1933 and thanks to @JollyJohnny for keeping this lot in shape (the predictors not the table!)
I'm going to pretend this season never happened and claim (Pomlett-like) that I'm on the verge of greatness!!
Anyone but saddlesore for me.I don't think I could bare having to lick him to get high I mean errrr the constant gloating

I was just looking for the weekend picks, thinking I'd better have a look. It can't be over yet? @matt_saddlesore hasnt won. Again.
Back to either winning the whole damn thing or a guaranteed podium place, with customary (legendary) late surge.

Congrats on achieving your splendid 14th place! You must be absolutely thrilled!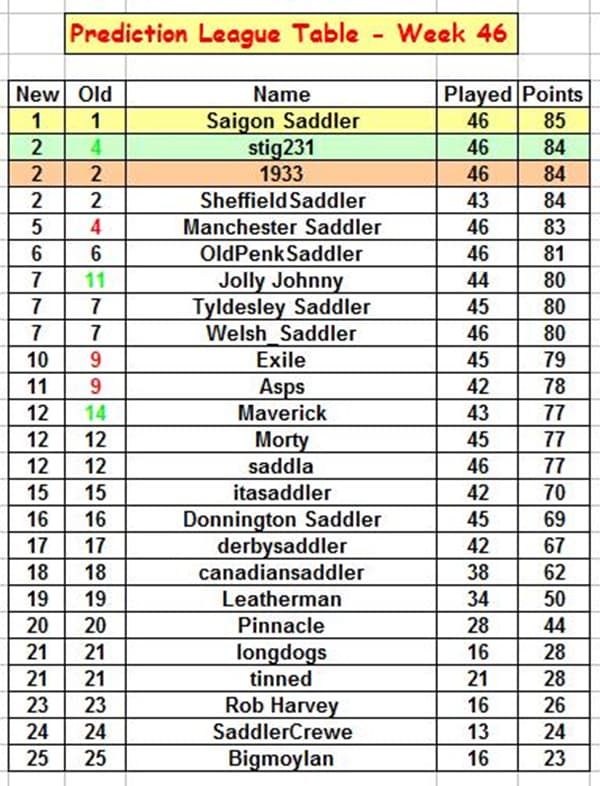 Edit - same top three back in 2014/15 proving that class IS permanent.

Edit - @Exile sorry not 14th but 10th, on both occasions! The symmetry is astonishing!