Good morning everyone and here we are again at the dawn of a new football league season (yes, already!) when many of us are still trying to get over the last one and failed hopes and disappointments, once again!
Well, let's hope this season brings us more to cheer about and that the newly assembled squad that Michael Flynn has put together will see a rise in performance and consistency.
On that note, as we talk about performance and consistency, let's introduce this season's prediction league and another chance for people to get stressed, humiliated, cocky, dismissive and ignorant (and that's just one of our predictors!!) each and every week over 3 games of mostly mind-numbing football happening in League 2.
For those who haven't played before or are new to UTS, here is what you do (if you want to take part):
Choose 3 of the games from the game week post that has the set of fixtures and predict their result and scoreline
You score 2 points if you get the exact scoreline correct and 1 point if you get the result correct but not the scoreline (e.g. you predict Walsall 7 v 7 Bradford City but it actually ends up 6 v 6). So you are playing for 6 points each week.
After the games are finished, a table is created and updated on a weekly basis to show how people are doing.
There are weekly winners announced and we keep track of how many weekly wins there are for people across the season alongside the overall winner with most points accumulated.
Key Rules:
You must have the predictions in before the kick off of the games otherwise they are void.
If you miss some games (for example at 3pm but there are 2 games at 5.30 kick off) you can still predict the later games.
If someone doesn't predict for 5 game weeks in a row, they will be taken off the table, but can join back in again and will be re-instated into the table if so.
If you mis-copy games so the teams are wrong then they will be void as well (if you can't get that right then tough luck!)
Predictions can be PMd to me if you would rather avoid any skullduggery from certain people 'copying' predictions, although we are all big girls and boys so shouldn't need this really!!
Any lording it up with pictures of medieval battles or Norse gods reigning over everyone will result in penalty points and severe eye rolling, sighing and shaking of a fist at a screen from myself!
Here is the final table from last season so you can see who are the big 'threats'!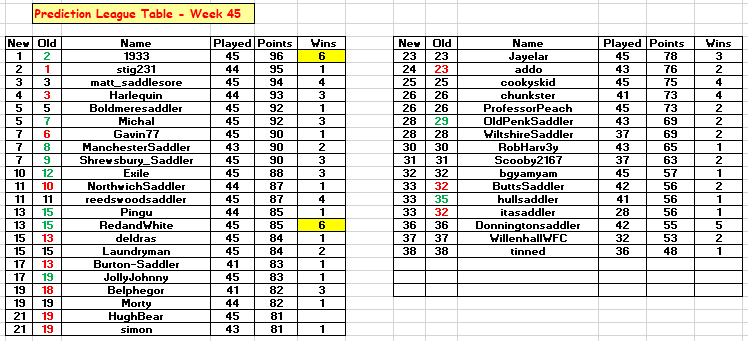 The first week's thread should be up and running shortly ahead of Saturday's games.