Afternoon all and we are a week away from the new football league campaign and another attempt to see if we can get ourselves up and out of the depths of League 2!
A year ago, I started the prediction league campaign with this introduction:
Good morning everyone and here we are again at the dawn of a new football league season (yes, already!) when many of us are still trying to get over the last one and failed hopes and disappointments, once again! Well, let's hope this season brings us more to cheer about and that the newly assembled squad that Michael Flynn has put together will see a rise in performance and consistency.
All looks depressingly familiar eh? Well I guess I could have just subbed in Mat Sadler for Michael Flynn and started the ball rolling again! Let's hope we aren't talking about 'Sadlerball' in a similar vein to what became 'Flynnball' last season.
Anyway, I digress, so let's get back to other matters and introduce a new season's prediction league. Last year saw a good battle and a few predictors fought out the top spots, exchanging the lead several times and then one or two late surges of form that kept the interest going. It also saw some of the more 'seasoned campaigners' having to put up with an upper mid-table performance - maybe their legs have gone, maybe they have lost the motivation, maybe they were just looking for one last payday, but what it did mean was a little more humility, one or two winding their neck in most of the time (!) and altogether a much more civilised prediction league!! Maybe we'll get that this season too, but there's always room for some banter and antics, especially if the delights of League 2 football week in week out, don't get our pulses racing!!
This season, we are going to try one or two new things, to keep it 'fresh' and see how it works out - who know it may help to keep the competition and interest going, as well as help people 'plan for next season', as all the best football managers say every now and then. So, this season, we're going to introduce the mid-season split into 2 tiers / divisions / tables or whatever you want to think them as. This will then create some promotion and relegation aspect to the league, right up until the final game, which will in turn inform next season's campaign. Nothing ventured, nothing gained as they say so here goes!
For those who haven't played before or are new to UTS, here is what you do (if you want to take part):
Choose 3 of the games from the game week post that has the set of fixtures and predict their result and scoreline;
You score 2 points if you get the exact scoreline correct and 1 point if you get the result correct but not the scoreline (e.g. you predict Walsall 7 v 7 Bradford City but it actually ends up 6 v 6). So you are playing for 6 points each week.
After the games are finished, a table is created and updated on a weekly basis to show how people are doing.
There are weekly winners announced and we keep track of how many weekly wins there are for people across the season alongside the overall winner with most points accumulated.
If games get postponed, you can either change your predictions or I will keep a record of p-p games so that any points can be awarded after the re-arranged game is played.
If a game week ends up with less than 6 games due to postponements, then it will be voided and that game week carries over to the next round of matches.
There should be 46 game weeks but may adjust depending on point 6 above. The mid-season split will come around game 23 and, again, depending on point 6 above.
Anyone who misses the start of the season / first few games is still more than welcome to join in the fun!
Key Rules:
You must have the predictions in before the kick off of the games otherwise they are void.
If you miss some games (for example at 3pm but there are 2 games at 5.30 kick off) you can still predict the later games.
If someone doesn't predict for 5 game weeks in a row, they will be taken off the table, but can join back in again and will be re-instated into the table if so.
If you mis-copy games so the teams are wrong then they will be void as well (if you can't get that right then tough luck!)
Predictions can be PMd to me if you would rather avoid any skullduggery from certain people 'copying' predictions, although we are all big girls and boys so shouldn't need this really!!
Some fun banter and predictor sledging is permitted and all part of the friendly yet competitive edge to proceedings but keep it decent and resist too much self promotion or adulation - remember pride comes before a fall and you'll just end up looking a bit of a wally!!
Here is the final table from last season so you can study form and who to look out for or needs knocking off their perch!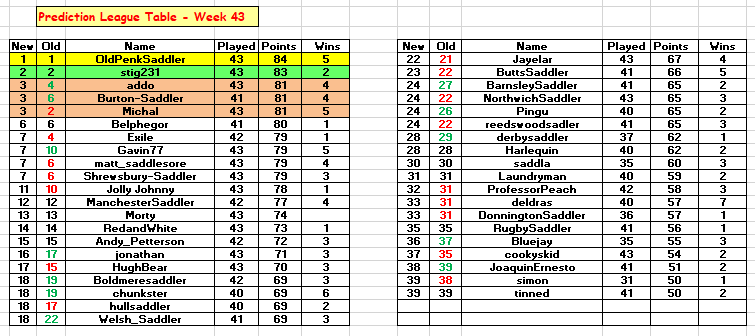 The first prediction week will be up and running shortly - have fun everyone!