Have we still got to suffer the errea brand again i would like to see hummel make our tops…
Dan Mole loves Errea…
I actually like this seasons kit to be honest but the away kit was an abomination.
Depends if they've thrown in a nice holiday again.

3rd kit is the best this season can we have more red and white for the home kit
To be fair to Dan Mole he has been working so hard on the kits & the commercials around it, he has had to neglect his other responsibilities. So just back off and wait & see what happens.
Think you meant allegedly

The redactor disagrees.


I like the white shirts and red shorts away kit, I would prefer that those colours be our home kit for next season.
Oh, whoever makes the final decision on the kits, can we please totally eliminate the green colour from them.
I agree. Block colours are so yesterday and the second kit is probably the worst in years. The green is naff and apart from a few seasons of mostly struggle, green has never been part of the Saddlers' colour spectrum.
The other thing I reckon is that 'our' red is a lighter red than in previous seasons. That may be my imagination, though, but I sense that we had a darker red the season we were promoted ar Cardiff.
I liked the red/white/black we had going on… hope we don't have green again next season.
Reckon we should have a collar too… And maybe an old school type track top too
I love Hummel kits but they've made a few dodgy kits too.
This was Newport's third kit, in collaboration with Goldie Looking chain: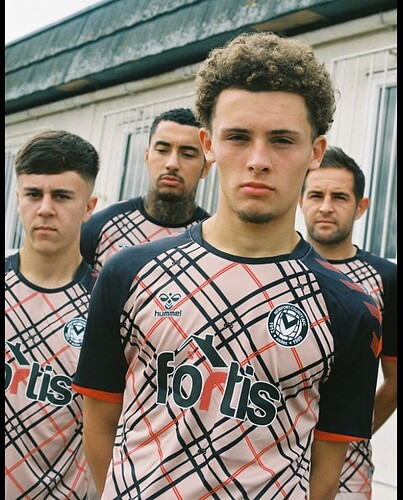 Maybe, in honour of Slade, they can do a variation of this kit, with a kipper tie: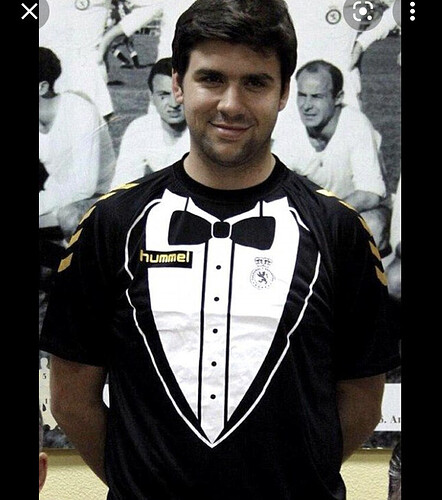 No, no, no, I love the green. It gives us a unique identity and goes back to when I started supporting Walsall.
I presonallly think they should be designed by primark and sold at primark prices
ANYTHING from 65 to 77

that would be a no to the green then

I think I've got all I need for 1874 in my wardrobe - white collared shirt and beige chinos? Not sure about the blue cap though - think green would go with it better …