Something a little bit different this week, as I spoke to Matt, host of 'Gills In The Blood', who gave us the low down on all things Gillingham ahead of our clash this weekend….
The Gills season so far?
Well we currently sit third in the table after a dozen games, winning seven of those, keeping five clean sheets & sitting within two points of the summit.
Based on that you would think everything would have been fairly routine and rosey so far, but that never seems to be the Gills way.
Despite being no lower than eighth up to this point we somewhat surprisingly (regardless of whether it was the right or wrong call) dismissed manager Neil Harris just six days ago, with the fan base fairly divided as to whether that was the correct call at this stage of the season.
Since then we've won our solitary league game under the stewardship of interim gaffer Keith Millen - seeing off MK Dons by two goals to one - but were soundly beaten to the tune of 5-1 by Portsmouth in our midweek lea gue trophy game, albeit with a much changed squad.
Millen has said he doesn't want the post full time, but who the new Head Coach (a change of approach according to the owners' notes when sacking Harris) will be remains to be seen.
Candidates range from those out of work - Karl Robinson & the Cowley brothers - to local man & current Crawley Town boss Scott Lindsey to former player Steve Bruce if you believe the bookies' lists, but do any immediately scream 'upgrade'?
That depends on personal opinion I guess.
The next few weeks could be interesting to say the least, & could be key to how the rest of our campaign ultimately pans out.
It's important we make the right call in a timely fashion as we have good players. The likes of Shad Ogie & Ethan Coleman have really stepped up, & in Connor Mahoney we have one of the best wide men in the division.
In terms of a score prediction I'm torn, but if thinking with my head I will go with a 1-1 draw.
I also sat down to speak Walsall with Matt for his channel last night……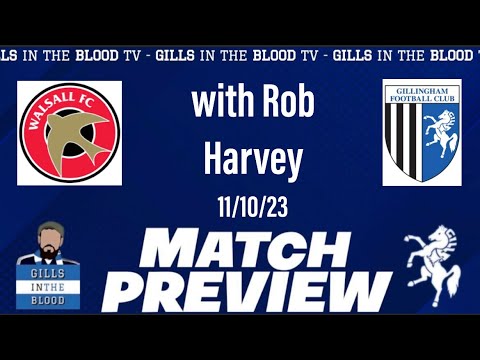 Walsall vs Gillingham - Match Result
Walsall Win
Draw
Gillingham Win