I miss the people. I miss the football. I miss the club.
Not sure I'll ever miss that particular place though.
We should start a campaign before our next home game to get a sell out, help boost the coffers
Referee just about to blow whistle here. 2-1 to the saddlers.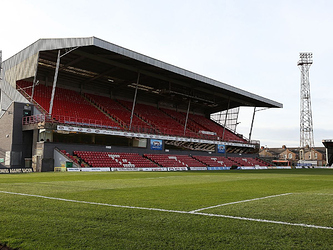 Thankfully cold and gloomy so not many holiday visitors to Cleethorpes today so quick getaway.
2-1 Saddlers???
Maybe we'll be lucky and hold on for a draw!
Ended 3.1. Adebayo hattrick.
I wonder if Bonser would have charged for the advert?
So did we actually play a game today?
Glad it's not just me Chunk


Took me a bit of courage to post that but i thought i would take one for the team


Hopefully somebody will put us out of our misery soon.
I think it's a wind up mate


Ah, I wondered if it was still that thingy going on where we played Roma the other week.
Well i did think that until i saw the picture of the stand and @hullsaddler saying he got away quick because of the lack of holidaymakers

No-one on duty at the Humber Bridge on the way home so that saved me £1.50 as well!
Were there any pies on offer?
Only Chunkster's Cheese and Onion Specials I'm afraid,(run out of Meat & Potato) but they filled a gap.
Mrs Hullsaddler has made a Lemon Meringue pie and there will be plenty over if you want some.
I won't than you, i haven't got a very sweet tooth, it's the one course i always give a miss when going for a meal, BUT it just happens to be mrs chunksters all time favourite, so could i have a slice for her please? i have pm'd you my address, nice to think our very own @RobHarv3y may be involved in some way