Yes their fans have been complaining about lack of effective cover all over the pitch for most of the season😁
It's the only ground I've been to where it can be frying an egg on the pavement outside but you still need a thick coat, woolly hat and gloves inside.

That game at Oldham, December 2000. If that game somehow went ahead then no game should ever be called off.

They can keep there stock of burgers in that away end without them going off. Might have to defrost them before cooking though.
Was that the one between Christmas and New Year?
It was -3 when we left Blocko. I doubt a temperature exists to measure how cold it was in Boundary Park

Yes, that's the one I'm thinking of. Very cold. Very, very cold.
I made the last minute decision to go, setting off just after 12pm.
0-0, frozen to the marrow, got ('man') flu and wrecked my 100% attendance record at work. Needless to say the boss thought my absence the following week was down to heavy New Year partying. Bitch.
Yeh I went as well, was freezing on the car cark and seemed to drop another 5 degrees as soon as you went through the turnstiles.
Think I'll wait this week before buying tickets to the game this Saturday.If we call it off it'll probably be played on a Tuesday night which isn't my favourite night to watch us as we usually lose, plus it's usually a rush after work and you can't have a good few beforehand.
I so hope the weather improves and gets a little warmer and we have a game to go to saturday , it feels like forever since we've been at home .
Not looking great from the weather forecasts I've seen. Walsall do have a pretty good record of getting games on to be fair but if the pitch is frozen I guess not much that can be done.
I sure am missing those early season games in the sunshine now !
Looking at the forecast it must be very doubtful which will be very disappointing in view of our good run .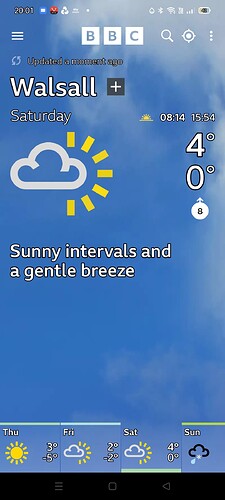 Saturday itself looks ok , but it's sub zero every night between now and then , definitely in the balance.
I'm sure the club said years ago that the covers worked down to -3. Very much in the balance, especially as the low temperatures have been here for over a week.
Safety of the players and supporters has to be paramount.
We don't get postponements for frozen pitches in the Amazonian rainforests.