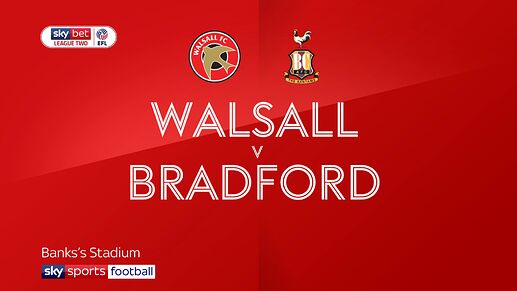 A rearranged game on Tuesday after the original date of Wed 29th December was cancelled due to Covid in the Bradford City camp.
The Bantams head into this game 12th in League Two with 33 points from 25 games, only 3 points ahead of The Saddlers but with more realistic aims of hitting the play-offs.
The visitors are managed by Derek Adams, who joined them in pre-season, opting against leading the Morecambe team he got promoted into League One last season in favour of trying to get Bradford there this season. So far, it's not gone to plan, but you wouldn't bet against them sneaking into the playoffs come the end of the campaign.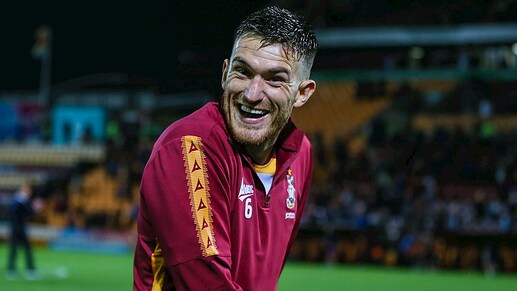 Spearheaded by none other than ex-Saddler Andy Cook, Bradford will head to the Black Country with more than a hope of getting a win, aided of course by our poor form and lack of playing staff, especially in defence. Caolan Lavery also plays for the visitors, and even he might stand a chance of scoring if he gets on in this one.
January has seen The Bantams secure three signings - Matthew Daly (on loan from Huddersfield Town), Jamie Walker (on loan from Scottish Premiership side Hearts), and Dion Pereira (on loan from Luton Town, formerly of MLS side Atlanta United), all with the aim of pushing on in the second half of this campaign.
The last six games that Bradford have played have thrown up a mix of results, and are as follows:
8th Dec - Colchester United (H) - Drew 0-0
11th Dec - Sutton United (H) - Drew 2-2
1st Jan - Barrow (A) - Won 2-1
8th Jan - Carlisle United (A) - Lost 2-0
15th Jan - Salford City (H) - Won 2-1
22nd Jan - Rochdale (A) - Drew 0-0
Now onto The Saddlers…
Matt Taylor and his side head into this game winless in FOUR GAMES (D1, L3) and with a crisis on their hands.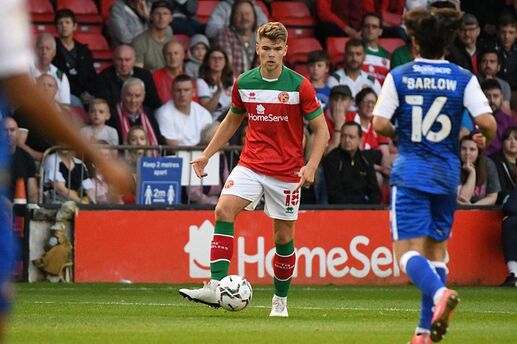 We head into this game having seen Ash Taylor AND Otis Khan leave the club with a mysterious illness that seems to clear up pretty quickly once out of town, and we are also without Stephen Ward (injury) and Rollin Menayese (suspension) so at the point of writing we have only Tom Leak to deal with Mr Cook, with any other CB either coming in on loan or being shoe-horned in there such as Hayden White. We are also no closer to seeing Rory Holden appear in a Saddlers shirt, it appears, following his long injury layoff.
On top of this, fans are slowly starting to turn against those in charge at the club due to the way they have handled themselves both recently in terms of the 'mysterious minutes' that are yet to be seen because the club have wet their knickers about them, and more long term now that stats are coming out about team performance over a number of years, even as recently as just dropping into League Two.
Since dropping into League Two our league record is as follows:
Played - 107
Won - 31
Drew - 36
Lost - 40
Since dropping out of The Championship in 2003/4, our league record reads:
Played - 797
Won - 252
Drew - 256
Lost - 285
Only In 4 seasons out of 17 seasons have we improved on our previous season's league position.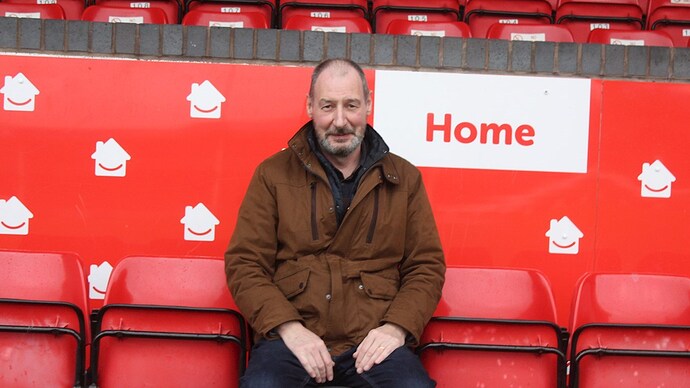 Change is needed, urgently. If you have any ideas then email
[email protected]
- I'm sure he will pass them on…
Anyway, back to Tuesday - how many of you that have ST's are not going to bother this time? I'm again not going, and can't see anything that suggests anything other than a heavy defeat, with Andy Cook scoring a few.
Anyone fancy a guess at the team selection at this point?
Good luck to anyone going, enjoy the (ninety) minutes

- There's nothing to be positive about for me, sorry.
Walsall vs Bradford City - Match Result
Walsall Win
Draw
Bradford City Win