Week 1 went well for you @Belphegor






This is what happens when you get cocky. Ask Matt.

Did it

. Thanks for letting me know. I've been so busy I haven't checked the results from the weekend apart from ours. I'll have a look now

Updated table after today's scores. Some nice 3 pointers as well as a 4 pointer but the week's winning score was 5 points, achieved by Chunkster - well done!
Some more people joined in this week - the more the merrier on the prediction league bus, although please make sure you wear a mask and ensure you social distance, at least from certain predictors anyway - I've heard they don't wash their hands!!
The games for next week are already up and running so keep the ball rolling or maybe it'll be third week lucky for some!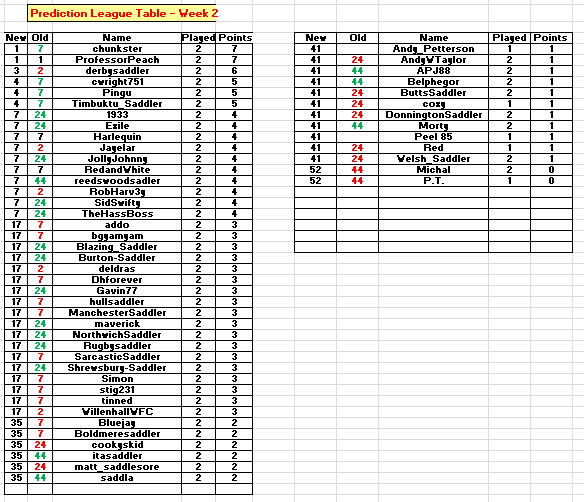 Bloody hell my nose is bleeding

don't worry guys it won't last and i will be just as gracious in defeat as i would be in winning

not like the last couple of jokers


Unlike some I could name…

Top performance Chunkster… on fire



Just waiting for the extinguisher to kick in


The only way to beat that is to do an Andy W Taylor!!
Many congrats Chunkster, ace predicting
Although you could equal it by doing a Mattsaddlesore.
Perfectly normal start.
Keeping it binary.
Below Manchester Saddler.

Urgh.

Always thought that this was a stupid game!

At least I know who to copy next week, eh @chunkster !!??



On your own head be it mate

@chunkster the way it's going mate you've won the league already, congratulations.