I remember a time when, if @JollyJohnny hadn't published a table update within a day, @matt_saddlesore would be generous enough to at least post the top ten, usually in a very enthusiastic manner.
I guess he's too busy to do that now…
I'm too busy to do that now.
Much too busy. I'm also VERY important.
I feel that I've achieved everything that I set out to achieve in this arena, and I'm putting my efforts into new challenges. Like shopping. And other important stuff.
It's what you're shopping for that concerns us!!

Purely in the interests of information sharing:
Chunkster- 16pts
Pingu- 16pts
Timbuktu Saddler- 16pts
Everyone else- Nowhere
You poundland pervert. Round out the ten!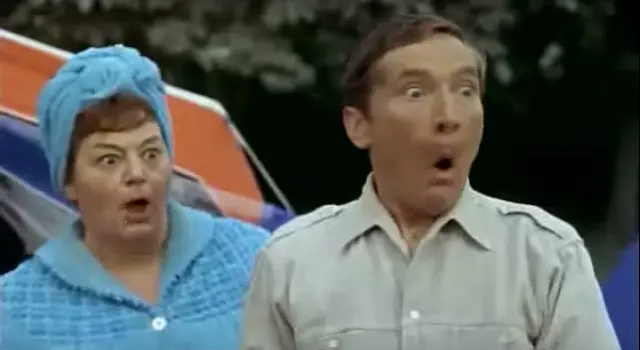 I've been sat out in a huff since my previous attempts at "creative thinking" were ruled out of order, but I've been lurking on the sidelines watching and I think I've now got the ideal solution - guaranteed points and I don't even have to put in an entry every game.
@JollyJohnny can you please take it as a standing order that my predictions are the exact opposite of whatever scores @matt_saddlesore submits?
Job done - where do I collect my prize?

I've got 14 pts, so not exactly nowhere. Also congrats to Pingu on your 5 pt haul last Tuesday mate.
Indeed you are. You are reassuring even the WORST predictors that no matter how poor they are, they will still have somebody beneath them in the table.
Good job, Matt.

"Beauty contest please!"


Haven't seen that in ages.
"Finished, over, dead and buried…" - bit like your prediction league performance over the last two seasons.

Updated table after Tuesday evening's games.
Pretty good scoring on the hole and no blobs this week!!
The winning score was 5 points achieved by Pingu - well done. That is the 7th different weekly winner in the first 7 weeks so just shows how open this prediction league and predicting is a funny old game as someone once said! A few good weeks and you shoot up the table!
Saturday and next Tuesday prediction threads are already up so get your predictions in by the required time, especially on Tuesday when there is a whole host of mixed up kick off times again.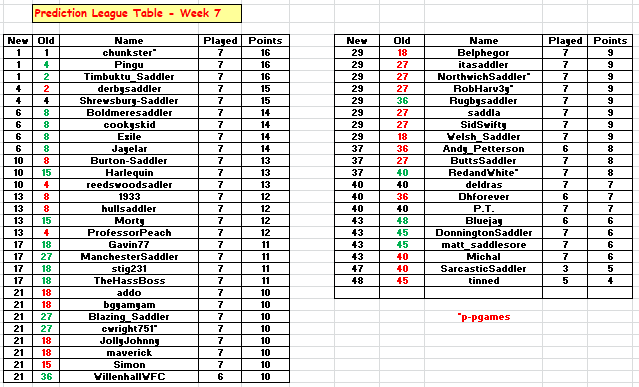 I wonder if this has ever happened before. I've had two successive scores of 4, and neither were enough to be the winner, not even joint. For that matter ,is this the first time we've had successive 5s?
7 points from two matchdays and into the top half. Happy with that. That table is super tight
Yes a bit unusual. It hasn't happened this season.
Last season (2019-20) we had a 5 points followed by 6 points on weeks 6 and 7, then two 5 point weeks on weeks 31 and 32.
5 pointers back to back happened once in 2018-19, once in 2017-18 and once in 2016-17.
I have deleted records / folders on my stick for the years before that.
So, basically, it doesn't happen very often!!
#turningintoobsessivesaigonstattoalert
I, too, was left disappointed on a score of 4 this round.
I take solace from the consoling factor that it was still a better score than @matt_saddlesore managed.
To be honest, I'd just assumed that he'd stopped playing!
But it turns out, that if you go far enough down the table, there he is…bringing up the rear…so to speak!