I am dropping faster than a pleck corner girls knickers

I'm on the first page of the prediction table

Said the actress to the bishop

Delighted to move out of the relegation zone.
Updated table after today's results. Mixed bag of results and a bit of movement, mainly at the bottom end of the table for some people!

The winning score was 4 points, achieved by saddla and stig231 - well done to you both. Another couple of first time winners this season which just shows that, although there is form that gets people up the table, anyone on their day can win a week!
Next Saturday's thread is up and running - let's hope this week is a fruitful one for the Saddlers on the training ground so we do better than we saw today!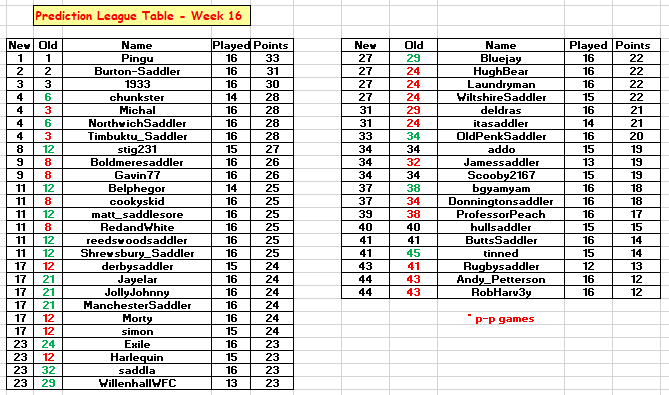 3 points and off the bottom! My charge up the table starts here!

I have more points than Matt Taylor
But not more that DC!


@Andy_Petterson trying to give me grief you're as shit as me

I think you'll find you are below me in the table
I think you will find your level of 'banter' Is poor. Concentrate on the prediction league x
Updated table from yesterday and some pretty solid scoring, although if you didn't do too well, you may have found quite a drop in position!


Late goals definitely make a difference and can make quite a swing in terms of what some predictors end up getting in both a positive and negative way - that's the beauty and distress of the prediction league!!
The winning score was 4 points, achieved by reedswoodsaddler and Gavin77 - well done to both!
Don't forget there are some games on Tuesday evening (I'm sure you haven't though!) so get those predictions in before 7.45pm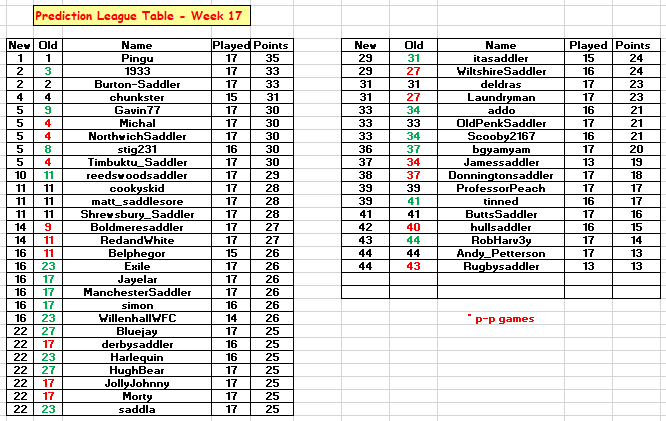 @Andy_Petterson where you gone mate? Not chirping now are you?

All about the January window for me
Updated table after tonight's games. And what a great evening it was!
Not only did we hold on for a confidence building 1-0 at DC's playpen but it was a stonking night of scoring in the prediction league!
I've never seen so many 3 and 4 pointers scored across the board by people but the winning score was 5 points, achieved by Harlequin and NorthwichSaddler - well done to both!
Yet again, it was another game week where it's the first weekly win this season for the winners! Two thirds of predictors have now won at least 1 week out of the first 18 weeks and only one (Jayelar) has won 3.
Games come round thick and fast so get your predictions in for this weekend - the thread is up and running now.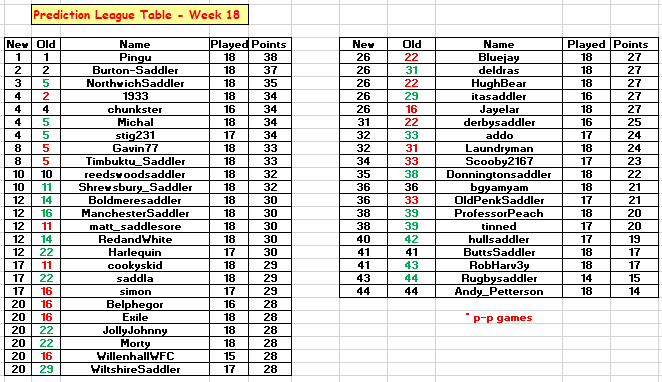 If only it was late December, 1963!!
Was i the only one to predict a saddlers win?