Thought you'd like it!!



Beyond me. No idea.
I have had some abysmal weeks.
Updated table after the weekend games as well as the p-p game that was played at Macc tonight (didn't yield any points for anyone, unfortunately for them!)
Once again, there was lost of good scoring and the winning score was 4 points, achieved by reedswood saddler, The Hass Boss, addo, Michal and Manchester Saddler - well done all of you!
With 12 game weeks to go, the top are just starting to get bunched a little, and Belphegor's lead has diminished a bit, so all to play for!
This Saturday's games are already up and running so don't forget before the 3pm kick offs.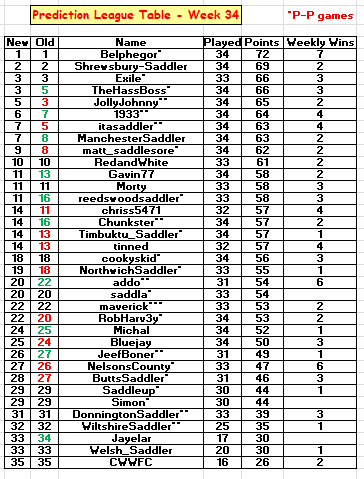 Can we have a rule that allows us to change predictions for postponed games next season? A large percentage of my weighting for game selection goes on current form, and that often changes when there's weeks or months between postponements…
Sounds a bit like sour grapes

Who would you have picked tonight then Macclesfield

I'd have picked the draw!
As someone who has previously administered this - that would be a living nightmare. It would also raise the unwelcome spectre of people seeking multiple changes, people more willing to opt for PP games, due to no disincentives, and other hidden administrative ghouls. There are times when there have been 4 or even 5 *PP games. Keep it simple! Up to JJ to decide, but I would strongly council against it.
Keep it low key, and hopefully he won't notice until next week.

I've only been playing for two seasons but the reason I think it works so well is its simplicity, pick three games a gameweek, job done.
Don't get me wrong I believe I also had Plymouth to beat Macclesfield (I think) and in reality if it appeared in a gameweek now, I probably wouldn't pick it. That's just bad luck unfortunately.
We all know what happened when you administered this…
What occurred?

If that's a reference to the multitude of missing PP weeks, they were simply an unfortunate and regrettable victim of Flemish's computer disaster.

I think the same applies for most people in terms of picking games linked to form etc. I can see your point and I know it has been mentioned before and can see that Matt has already added thoughts below regarding administrating it etc. I think with the number of people who have chosen games, it would be near impossible to keep tabs on who to contact, who to chase if they haven't changed and didn't know about it, as well as keeping tabs on when to set up a new thread for predicting p-p games as they are different weeks, some dates decided by the FA (or football league) quickly and others taking a while to sort.
As it happens, you didn't have the Macc v Pilgrims game last night - it only affected chunkster, itasaddler and Rob Harv3y!!
Everyone can be assured that I have a full record of what the p-p games are, who predicted them and what scores, as well as when they are due to be played (I know I haven't added on the asterisk for people for the Swindon Scunny game from Sat yet and it affects a lot of people so I will do shortly). If the games end up being played 2 months later than the original fixture, when maybe teams are in a different position / form etc, then that is just unfortunate pot luck and applies to everyone I guess. This whole prediction thing has quite a big element of luck to it anyway, even if there is the use of form etc to help guide predictions. Some weeks people predict 'bankers' and they don't come off, with results being totally against form.
So, in simple terms, lets just keep it as it is!!

Before last night there were 5 p-p games on my list. There have been occasions where I have kept tabs on 7 or 8 games due to be played (usually linked to when we have frozen pitches)!
I have now updated the table with all the current p-p game asterisks.
If you want to know which games you have then let me know and I'll tell you.
FYI there are 4 games outstanding:
Grimsby v Newport (week 18 - now Tues 25th Feb)
Plymouth v Grimsby (week 17 - now Tues 3rd Mar)
Cheltenham v Newport (week 13 - now Tues 24th Mar)
Swindon v Scunny (week 34 - TBC)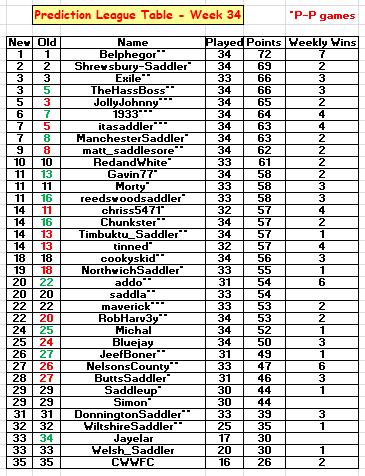 I think a tweak to the scoring system whereby 1 point was awarded for a home win and 2 for a draw/ away would make it more interesting and reward a bit more risk taking, particularly for those that fall behind early on in the season.
Agree with the p_p though. We still have time to edit our predictions up to the point the original fixtures kick off should we not want P/P games being carried forward.
Wouldn't everyone then simply pick away wins and draws?

This ridiculous and farcical suggestion is surely worthy of an immediate 11 point reduction for being foolish and wasting everyone's time.